Kawasaki Shipped Natural Gas Compressors for FPSO to be used in Oil Project off Vietnam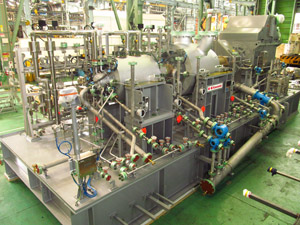 Tokyo, May 27, 2013—Kawasaki Heavy Industries, Ltd. announced today that it has shipped two natural gas compressors for a floating production, storage and offloading (FPSO) system which will be operated in oil fields off the coast of Vietnam near Vung Tau. The oil field development project is being led by Lamson Joint Operating Company.
An FPSO is a floating vessel designed to process and store crude oil extracted from offshore oil fields until it can be offloaded onto a tanker. These vessels can be operated at any water depth and are also easy to transfer and reuse.
The FPSO will be used for the development project at the Thang Long and Dong Do fields, located 160 km off the coast of Vung Tau. PetroVietnam Technical Services Corporation is an EPCI (Engineering, Procurement, Construction and Installation) and Time Charter main contractor for the FPSO package.
The compressors built by Kawasaki will be used to pressurize gas separated during the oil production process and transfer it to the mainland via a submarine pipeline. The order comes from Global Process Systems Pte. Ltd., a Singapore-based company constructing the FPSO topside. Commercial operation of the FPSO is expected to begin in the fourth quarter of fiscal 2013.
Kawasaki will continue to expand the sales of its natural gas-related products and actively pursue its energy and environmental business.
Contact