Fairing for Epsilon Launch Vehicle Shipped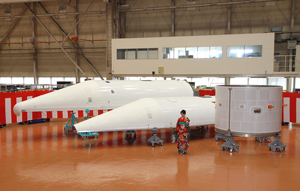 Tokyo, May 23, 2013 — Kawasaki Heavy Industries, Ltd. announced today that it has shipped a payload fairing (PLF*1) for the Epsilon Launch Vehicle to the Japan Aerospace Exploration Agency's (JAXA) Uchinoura Space Center. After design and manufacturing at Kawasaki's Gifu Works, the fairing was finally assembled and shipped from its Harima Works. Upon arrival at the Uchinoura Space Center, the PLF will be incorporated into the launch vehicle in preparation for the upcoming launch of JAXA's SPRINT-A*2 scheduled for August 22.
Kawasaki's new PLF is a clamshell fairing specially developed for the Epsilon Launch Vehicle measuring 2.5 m in diameter and 9.2 m in length. It features various enhancements to improve user-friendliness and streamline operations. For example, the door providing access to the satellite and other payload housed in the fairing has been made easier to open and close, allowing more time to access the satellite prior to lift-off. In addition, the fairing helps cut launch costs through its two half-shell structure consisting of a cone and a cylinder section, as well as such features as a submersible panel and attachable thermal insulation material.
Since delivering the first PLF for the H-II launch vehicle in 1993, Kawasaki has supplied payload fairings for a total of 7 H-II launch vehicles, 22 H-II A launch vehicles and 4 H-II B launch vehicles.
Kawasaki will continue to play a vital role in today's satellite launch industry and contribute to the advancement of space science via the development and production of cutting-edge PLFs.
*1

A payload fairing is an enclosure installed at the tip of a launch vehicle that protects the satellite from air drag, aerodynamic heating, acoustic noise and vibration during liftoff. After the launch vehicle leaves the earth's atmosphere, the fairing splits in two and is jettisoned, allowing the satellite to separate from the launch vehicle.

*2

Spectroscopic Planet Observatory for Recognition of Interaction of Atmosphere (SPRINT-A) is the world's first space telescope for observing remote planets including Venus, Mars and Jupiter from the orbit of an artificial satellite around the Earth.
Contact