Flight Control Surfaces for the 1,000th Embraer 170/190 Series Aircraft Shipped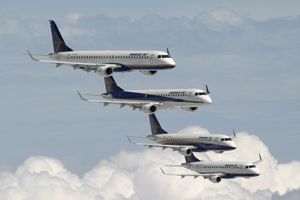 Tokyo, April 5, 2013 — Kawasaki Heavy Industries, Ltd. announced today that it has shipped its flight control surfaces for the 1,000th aircraft of Embraer S.A.'s 170/190 series.
The Embraer 170/190 series are 70- to 120-seat regional jet aircraft developed by Brazilian jet manufacturer Embraer S.A. These aircraft offer wide cabin space and excellent maneuverability, making them highly popular with major airlines as well as Low Cost Carriers and air charter operators around the world. Currently, there are 908 units in service (as of the end of December 2012) by 65 airlines in 42 countries, including 18 that are being operated in Japan by J-AIR and Fuji Dream Airlines.
Since 1999, Kawasaki has taken part in the development of the Embraer 170/190 series as a risk-sharing partner, responsible for designing and manufacturing the center section, wing leading edge, wing trailing edge, flight control surfaces and engine pylon for the Embraer 170/175, and for designing and manufacturing the center section and the entire wings of the Embraer 190/195. Currently, Kawasaki is continuing to focus on the manufacturing and delivery of composite flight control surfaces of the main wing components of the Embraer 170/190 series, which require a high standard of technical expertise. Kawasaki has earned high marks for the outstanding quality of its proprietary carbon fiber composite KMS-6115* used for flight control surfaces to cut down on weight.
By providing products of the highest quality, Kawasaki will contribute to the Embraer S.A. program and will continue to actively promote operations aimed at expanding the commercial aircraft business.
* KMS-6115 is Kawasaki's proprietary material for aircraft made from high-performance carbon fiber for general industrial applications and highly tough epoxy resin, instead of using a conventional special grade carbon fiber, to achieve cost reduction. By adding adhesive property to epoxy resin, Kawasaki succeeded in enhancing tensile strength and compressive strength by 60% and 30%, respectively.
Contact