164,700 m³ LNG Carrier Ordered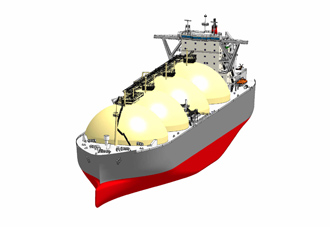 Tokyo, March 29, 2013 — Kawasaki Heavy Industries, Ltd. announced today that it has signed a shipbuilding contract with Kawasaki Kisen Kaisha, Ltd. for one 164,700 m3 LNG carrier. The vessel is to be built at Kawasaki's Sakaide Shipyard and slated for completion at the end of 2015. It will be chartered by Chubu Electric Power Co., Inc. to transport LNG.
The LNG carrier on order is a Moss-type LNG carrier with a 164,700 m3 cargo tank capacity newly developed by Kawasaki, and marks the second order for the same type of vessel. The hull size of the ship remains the same as that of a 147,000 m3 LNG carrier, enabling it to enjoy ship-shore compatibility with major LNG terminals throughout the world, while making it the largest size of Moss-type LNG carrier that can navigate the New Panama Channel presently under construction. With its highly versatile hull design, the ship will be an ideal solution for ship operators with a need to diversify their LNG trade.
The new LNG carrier comes equipped with a cargo tank that has approximately 18,000 m3 more volume than the existing 147,000 m3 variant. The ship features a fully optimized hull structure for reduced weight, as well as a hull shape that is optimized below the waterline for the maximum propulsive performance. Furthermore, the main engine comes equipped with the Kawasaki Advanced Reheat Turbine Plant*, which is proven to improve transport efficiency by over 25%.LNG Carriers are generally fueled by natural gas that evaporates during transport (boil-off gas). While recent technological advances have reduced the amount of fuel consumption, they gave rise to a new problem of excess boil-off gas that is left behind without being consumed as fuel. Kawasaki's LNG Carriers feature a proprietary thermal insulation system — Kawasaki Panel System — with an excellent track record spanning over 30 years. The panel system has been further improved for the new ship to achieve the world's lowest boil-off rate at 0.08% per day. With this improvement, the ship is able to minimize unused boil-off gas for outstanding environmental performance and economic efficiency.
The ship's principal particulars are outlined below.
| | |
| --- | --- |
| Length: | Approx. 293 m |
| Molded breadth: | 48.9 m |
| Tank capacity: | 164,700 m3 |
| Speed: | 19.5 knot |
| Boil-off rate: | 0.08% per day |
Kawasaki will actively pursue its shipbuilding operations in light of the expected rise in demand for LNG and other clean energy fuels.
* This steam turbine plant achieves a dramatic increase in thermal efficiency by utilizing a reheat cycle whereby steam that was used to drive high-pressure turbine is returned to the boiler to be reheated, and then sent back to the medium-pressure turbine. The LNG carrier equipped with the first Kawasaki Advanced Reheat Turbine Plant was commissioned in September 2011. The steam turbine plant powering the new LNG carrier has been further improved using data obtained through the sea trial and actual operation of the first plant.
Contact