First P-1 Production Patrol Aircraft Delivered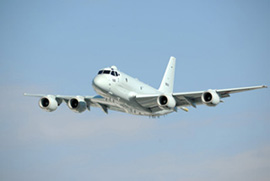 Tokyo, March 26, 2013 — Kawasaki Heavy Industries, Ltd. delivered the first P-1 fixed-wing patrol aircraft to the Ministry of Defense (MOD) at the Gifu Works today. The P-1 will be deployed by the Japan Maritime Self-Defense Force.
The MOD began development of the P-1 in 2001 to replace the current P-3C model. It is the first jet engine patrol aircraft developed entirely in Japan. The P-1 employs the world's first operational fly-by-light (FBL) system with high electromagnetic interference tolerance, as well as new acoustic and radar systems with enhanced detection capabilities. It is also equipped with new engines developed with domestically homegrown technologies. The aircraft boasts a greater flight range capability and superior maximum cruise speed than its predecessors.
In November 2001, Kawasaki earned prime contractor status to develop the XP-1 next-generation fixed-wing patrol aircraft (prototype of P-1) and the XC-2 transport aircraft, and initiated the design and production of a prototype of the two models. In September 2007, the first XP-1 aircraft completed its first flight, and the first and second XP-1 were delivered to the MOD the following year. The development project was completed this March after the performance evaluation conducted by the MOD.
The initial agreement on the manufacturing of the P-1 aircraft was signed in March 2009. Various improvements derived from the XP-1 were subsequently reflected in the design of P-1 as Kawasaki moved forward with the manufacturing.
The P-1 will be deployed to patrol and survey wide sea areas surrounding Japan, after operational tests are completed.
The main specifications of the P-1 aircraft are as follows.
Length :
38.0m
Wingspan :
35.4m
Height :
12.1m
Basic takeoff weight :
79.7 tons
Engine :
F7-10 (turbofan)
Contact