Bulk Carrier Draco Ocean Delivered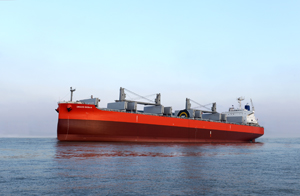 Tokyo, February 26, 2013 — Kawasaki Heavy Industries, Ltd. today delivered the Draco Ocean bulk carrier, with a capacity of 58,000 DWT (Kawasaki hull no. 8007, NACKS hull no. 142), to Diamond Star Shipping Pte. Ltd. at Nantong COSCO KHI ship Engineering Co., Ltd. (NACKS) in Nantong, China.
Features of the
Draco Osean
The vessel has a flush deck with a forecastle and five holds that are designed for optimum transport of grains, coals, ores and steel products. Four 30-ton deck cranes are installed along the center in between hatch covers to enable cargo loading and unloading in ports that lack cargo handling facilities.
The vessel employs the latest in technology to achieve maximum fuel economy, including an energy-saving main diesel engine, highly efficient propellers, as well as the Kawasaki semi-duct system with contra fins (SDS-F) and rudder bulb with fins (RBS-F), which all contribute to the vessel's enhanced propulsion performance.
The main engine and generator engine comply with Tier II NOx emission standards set by the International Convention for the Prevention of Pollution from Ships.
Contact
20130227_1.html,
Tokyo, February 27, 2013 — Kawasaki Heavy Industries, Ltd. announced today that it has received an order for a project to build and maintain the city of Kobe's 11th Clean Center, waste-to-energy plant, jointly with Obayashi Corporation and Daiken Sekkei, Inc. In this project, Kawasaki will join hands with Obayashi to construct the plant's waste treatment facility, while Kawasaki will be solely responsible for the maintenance of the facility.
The facility to be built under the project consists of a waste incineration plant capable of treating 600 tons of MSW per day (combining three incinerators, each with a capacity of 200t/24h), wood-based waste crushing facility (capacity of 20 tons per day), and a transshipment facility for recyclable waste.
The incineration plant will feature parallel flow stoker incinerators capable of high-performance combustion with minimal air, as well as bag filters and a flue gas recirculation system to minimize environmental pollution. This facility will also combine high-temperature, high-pressure boilers and extraction condensing turbines for a highly efficient electric power generation capable of producing up to 15,200 kW. In addition, the entire facility will be designed to minimize the use of electric power to help reduce greenhouse gas emissions.
The Clean Center will be built on the city's Port Island, an artificial island. The plant is designed to have a compact structure with a modern look to ensure that it blends in with the beautiful landscape of Kobe's waterfront area.
Kawasaki boasts a wide variety of incineration technologies in addition to its stoker-type incinerators. Kawasaki will continue to develop new waste treatment technologies and deliver products that resolve the various environmental issues and needs that the world increasingly faces.
Contact