World's Most Efficient Double-Effect Absorption Chiller Efficio Launched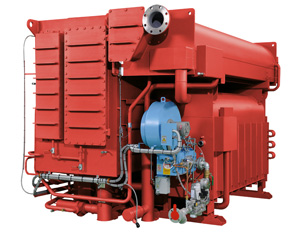 Tokyo, February 21, 2013 — Kawasaki Thermal Engineering Co., Ltd. (KTE) announced today that it will launch the new Efficio line of absorption chillers, which attained the world's highest COP*1 (1.51*2) for a double-effect absorption chiller, on April 1 in Japan, and in the latter part of 2013 for the overseas.
An absorption chiller is an environmentally friendly air conditioning system that uses water as a refrigerant and gas or oil as fuel. Ever since KTE commercialized the world's first absorption chiller in 1968, the company has pursued various technological developments as the leading company in absorption chillers. Today, they are used in a wide range of facilities from hotels and offices to commercial buildings, schools, hospitals, and factories, as well as for such applications as district heating and cooling, both in Japan and abroad.
The tight electricity supply following the Great East Japan Earthquake has given rise to a renewed interest in absorption chillers, which are far more energy-efficient than their electric counterparts.
With the new Efficio, the outstanding performance of Sigma Ace, its predecessor, has been taken to another level, attaining the world's highest rated COP for a double-effect absorption chiller and high annual operational efficiency*3, as well as enhanced system efficiency.
Features of the Efficio are summarized below.
Highest rated COP among double-effect absorption chillers
The Efficio has attained a COP of 1.51, making it the world's most efficient double-effect absorption chiller. This outstanding performance was made possible through a combination of fuel-saving technologies, including the proprietary compact, high-performance plate heat exchanger, two-stage evaporation/absorption structure, high-efficiency heat exchanger tubes, and exhaust gas heat exchanger.
Highest annual operational efficiency
The Efficio delivers high annual operational efficiency by adopting a parallel-flow arrangement, solution inverter control, advanced burner technology, and larger absorbent solution storage tank. These features ensure excellent efficiency across the full range of load conditions, contributing to greater energy savings. (Fig. 1)
Highest system efficiency
The Efficio's energy-saving features are not limited to the improved efficiency of the absorption chiller itself. This product also comes equipped with enhanced control functionality for boosting the efficiency of the entire system, including auxiliary equipment. Temperature sensors etc. are utilized to optimize the operation of the cooling water pump and other equipment according to load conditions, slashing annual energy consumption by nearly 50% and CO2 emissions by approximately 60% compared to existing systems. (Fig. 2)
Lightweight and compact
The main unit of the absorption chiller has been made lighter and more compact, enabling additional savings in installation costs and foundation reinforcement costs.
Improved operability and visibility
The Efficio comes with such standard features as a 24/7 remote monitoring functionality (remote maintenance and other existing functionality) and a 5.7" color liquid crystal touch screen in the control panel for better operability and visibility.
To cater to a wide range of customer needs and operating environments, the Efficio comes in four types — COP 1.51*2, COP 1.43*2 (scheduled for release after October), COP 1.39*2, COP 1.33*2 — each consisting of 18 models (a total of 72 models) in the output range of 281 kW to 3,516 kW (80RT to 1,000RT).
Efficio series lineup
Product name
NZ type
NH type*4
NU type
NE type
COP
JIS standards
1. 51
1. 43
1. 39
1. 33
Higher heating
value standards
1. 36
1. 30
1. 25
1. 20
Cooling capacity
Each type offers a capacity range of 281 kW to 3,516 kW
*1

COP (Coefficient of Performance) is obtained by dividing cooling capacity by heat input.

*2

Japanese Industrial Standards

*3

Annual Operational efficiency indicates the efficiency over the course of an entire year under actual operating conditions. While operational efficiency varies depending on the building, application and other conditions, it can be improved by selecting a model with excellent partial load efficiency if the system will be operated under partial load for an extended period of time.

*4

Scheduled for release after October 2013
Partial load properties of the Efficio series (NZ type)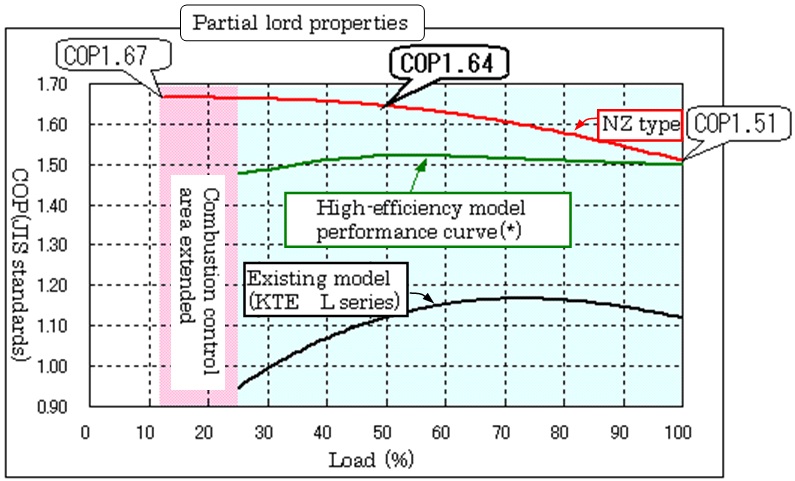 Cooling water inlet temperature conditions are as specified by the JIS standards (32°C at 100% load, 27°C at 0% load, with the temperature varying proportionally at loads between 0% and 100%).
"High-efficiency model performance curve"
The following figure indicates the performance curves of high-efficiency models specified by three gas companies for selecting an environmentally friendly model.
As one of the conditions to be selected as a high operational efficiency model, the amount of cooling gas consumed in a year must be equivalent to or less than that of an absorption chiller with these performance levels.
Comparison of the annual energy cost and CO2 emissions of the Efficio series (NZ type)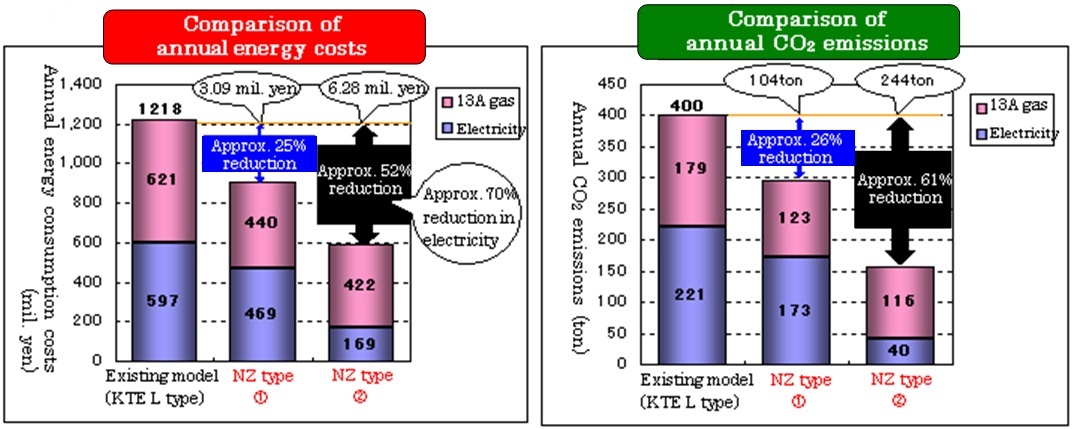 Conditions for calculation
Absorption chiller capacity:
739 kW (210RT)
Application:
Hotel air conditioning (7,428 hours of cooling per year; load pattern data obtained from The Society of Heating, Air-Conditioning and Sanitary Engineers of Japan)
Cooling water conditions:
The existing model and NZ-type (1) are as specified by JIS. NZ-type (2) varies in accordance with the air conditions.
Electricity rates:
TEPCO's electricity supply for commercial use (January 2013)
Gas rates:
Tokyo Gas's contract A for air conditioning (January 2013)
CO2 emission coefficient:
13A gas---2.29 kg-CO2kg/m3N (Tokyo Gas data)
Electricity---0.69 kg-CO2kg/kWh (marginal coefficient: thermal power supply coefficient)
For the existing model, a chilled water pump with a water temperature difference of 5°C was chosen, while for the NZ-type, one with a large temperature difference (difference of 8°C) was chosen.
Contact