1,000th BK117 Twin-engine Multi-purpose Helicopter Delivered
Dec. 10, 2012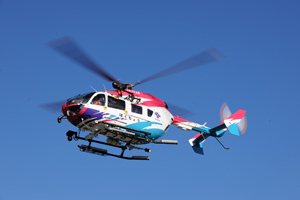 Tokyo, December 10, 2012—Kawasaki Heavy Industries, Ltd. announced today that it has delivered the 1,000th BK117 twin-engine multi-purpose helicopter, which it jointly manufactures with Eurocopter Deutschland GmbH (previously Messerschmitt-Bölkow-Blohm).
Ever since its market debut in May 1982, the BK117 has been sold to customers around the world. The 1,000th BK117 (Kawasaki BK117C-2) was delivered to the Shimane Prefectural Government to be deployed by the Shimane Air Rescue Team as a fire fighting and disaster relief helicopter. The new helicopter marked the 158th C-2 model to be delivered by Kawasaki.
Developed and manufactured jointly by Kawasaki and Eurocopter Deutschland, the BK117 is a best-selling helicopter that is deployed around the world. It has earned high marks for its roomy cabin space, compact body and excellent mobility, as well as the large clamshell doors at the rear that facilitate the loading and unloading of materials and equipment. The BK117 covers a broad spectrum of applications, including broadcasting, transporting cargo and passengers, fire fighting and disaster relief operations, police work and emergency medical services.
As a leading helicopter manufacturer in Japan, Kawasaki will continue its research, development and manufacturing efforts to contribute to the development of Japanese aircraft manufacturing technology.
Specifications of Kawasaki BK117C-2 helicopter
Length:
13.03 m

Width:

1.73 m (body)

Capacity:

11 (maximum number of seats)

Maximum load:

3,585 kg

Cruise speed:

246 km/h

Cruising range:

675 km (standard tank)

Major equipment:

rescue hoist system, television transmitter,

emergency float system, etc.