Kawasaki and J-Power to Build and Operate an Energy Recovery Facility for the City of Seikai
Nov. 05, 2012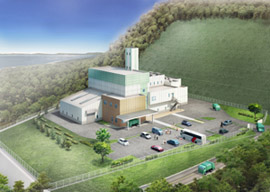 Tokyo, November 5, 2012—Kawasaki Heavy Industries, Ltd. announced today that it has been awarded a special project contract*, jointly with Electric Power Development Co., Ltd. (primary contractor; hereinafter J-Power), for a project to build and operate an energy recovery facility for the city of Seikai, Nagasaki Prefecture, following the approval of the city council.
The aim of this project is to build a facility that processes the city's non-industrial waste into carbonized fuel, as a step toward creating a low-carbon, recycling society. The city of Seikai adopted a DBO (Design/Build/Operate) approach for this project, and Kawasaki will be responsible for the design and construction of the facility. The operation of the facility will be undertaken by a special purpose company, Green Call Seikai Co., Ltd., co-founded by Kawasaki and J-Power, for a period of 15 years.
The facility to be built under the project will be capable of treating 30 tons of waste per day using two indirectly-heated carbonizing kilns. Cutting-edge demineralization technology will be employed to enable the production of low-chlorine carbonized fuel that can be co-fired with coal. Flue gas exiting the carbonizing kilns will be treated with an incinerator and bug filters to minimize air pollution.
In addition to its indirectly-heated carbonizing kilns, Kawasaki has a wide range of incineration technologies. Kawasaki will continue to develop and market new waste treatment technologies that address mounting environmental challenges as well as diversifying needs.
*Special project contract: a collective term for the master agreement that sets forth basic matters of the project, and construction services agreement and operation outsourcing agreement that are based on the master agreement.