Kawasaki to Launch 250cc Sport-Model Ninja 250
Nov. 30, 2012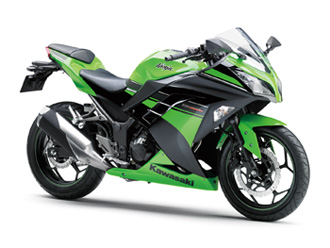 Ninja 250
Tokyo, November 30, 2012—Kawasaki Heavy Industries, Ltd. announced today that it will launch Ninja 250, the 250cc motorcycle in the Ninja line-up of sport models, as well as Ninja 250 Special Edition with special livery effective February 1, 2013. In addition, Ninja 250 ABS Special Edition, with ABS as a standard feature, will be launched on February 15.
The 250cc class is a popular category as it offers not only excellent economic performance and casual usability for daily ride, but also enjoyment of real long touring via expressways. A variety of riders including novices and returners are enjoying their motorcycle lives choosing models that fit their lifestyles.
Newly-marketed Ninja 250 is an all-round sport model for active riders who proactively wish to enjoy sport riding.
With a highly rigid diamond-shaped steel frame chassis, Ninja 250 realizes superior riding performance and easy handling. Featuring a lightweight and compact four-stroke, liquid-cooled, DOHC four-valve, parallel twin-cylinder engine (248cm3), the model delivers powerfulness at low- and mid-range engine speeds and sharpness at high speeds. Equipped with fuel injections and a three-way catalyzer, the model offers superior environmental performance which conforms to the 2007 Japanese national emissions regulations for motorcycles.
In addition to the aggressive exterior which is unique to the Ninja line-up, careful, high-quality designing into details pursues its owner's pride of ownership surpassing that of conventional 250cc class models.
Motorcycle

Ninja 250

Ninja 250

Special Edition

Ninja 250 ABS

Special Edition

Color

・Ebony

・Pearl stardust white

・Lime green ×Ebony

・Ebony × Metallic moondust gray

・Passion red × Pearl stardust white
Ninja 250 Special Edition
Key Features
Engine:
- Equipped with a four-stroke, liquid-cooled, DOHC four-valve, parallel twin-cylinder engine (248cm3). The parallel twin-cylinder engine delivers power characteristics that are powerful at low- and mid-range engine speeds and agilely responds at high speeds.
- In addition to a newly-designed lightweight piston, an open-deck-type sleeveless aluminum die-cast cylinder with plate processing on the inner wall is adopted. These innovations contribute to balance weight saving and high durability, as well as delivering consistent performance.
- Equipped with a dual throttle valve for optimizing air intake, it agilely responds to throttle and delivers smooth power characteristics. In combination with the fuel injection system for high combustion efficiency results in improving performance and fuel economy.
- A complex cross-sectional short silencer with sporty appearance is adopted. A specially-shaped exhaust pipe for ensuring the pipe length carrying the three-way catalyzer at its collecting part also contributes to balance superior environmental performance and output performance.
Chassis:
- Equipped with a full fairing and a dual headlight which inherit the latest "Ninja" line-up design, the image of the model has been set at high quality and aggressiveness.
- The narrow parallel twin-cylinder engine and the compact diamond-shaped steel frame result in a streamlined chassis. Moreover, modest seat height and a handlebar in slightly higher position allow even novices to have peace of mind for bike ride in a relaxed riding position.
- Equipped with a 290mm outer diameter disk brake in front and a 220mm in rear with a combination of petal disk, the model delivers excellent control and braking force.
- 10-spoke aluminum wheels symbolizing large displacement models in the Ninja line-up are adopted. Widened to 140mm, the rear tire contributes to superior running stability as well as boosting its sporty image.
Equipment:
- Equipped with a new meter with a combination of large analog-type tachometer for excellent visibility and multifunctional LCD, it contributes to its advanced and high-quality image. In the LCD panel, a digital speedometer, clock, fuel gauge, dual trip meter, odometer and economical riding indicator are displayed.
- Under the rear seat, easy-to-use two-tier storage space is available. In addition to on-board tools, a U-shaped lock or an ETC can be stored.
* The ETC and the U-shaped lock cannot be stored simultaneously.