picKstar YS02N High-speed Pick and Place Robot Launched
Oct. 25, 2012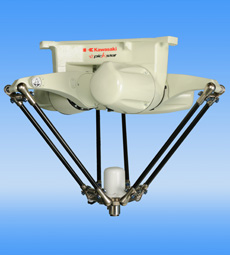 Tokyo, October 25, 2012—Kawasaki Heavy Industries, Ltd. announced today the launch of the YS02N, a new model in the picKstar high-speed pick and place robot family.
The YS02N has been developed for a wide range of applications that include electronics as well as food, pharmaceutical and cosmetics production lines. It features a smaller footprint and arm dimensions than its predecessor, the popular YF03N Delta-type parallel link robot.
Despite its small size, the YS02N is capable of high-speed motion over a wide range and supports a diverse array of applications including high-speed, continuous transfer and transfer of bags. The new robot offers significant body weight reduction as well as space saving, and the newly developed, compact E94 controller accompanying the YS02N requires minimal installation space. The YS02N also supports Kawasaki's highly reputed Vision system, which will further expand the range of applications.
Key Features
1) Compact size
| | |
| --- | --- |
| | The compact size and smaller footprint enable high-density layout of multiple robots. With a significantly lighter body weight of 60 kg, this robot can also be installed on a cantilever mount. |
2) Large motion range and high-speed motion
| | |
| --- | --- |
| | Despite the compact design, this robot boasts a motion range of 600 mm in diameter and speeds of up to 200 cycles per minute (for a 0.5 kg payload operation with a vertical stroke of 25 mm and horizontal stroke of 305 mm). |
3) High wrist torque
| | |
| --- | --- |
| | The high wrist torque enables the robot to be used for a broad range of applications by installing various end effectors at the end of the wrist. |
4) High maintainability
| | |
| --- | --- |
| | This robot is designed so that the main parts can be exchanged in units, greatly facilitating the task of exchanging the parts and minimizing maintenance downtime. |
5) Camera installation space
| | |
| --- | --- |
| | The robot's top mounting base is provided with a hollow space at the center for installing a camera. By installing a camera that is compatible with the Vision system, images of the work area can be easily captured. |
Main Specifications
| | |
| --- | --- |
| Model | YS02N |
| Arm type | Delta-type parallel link robot |
| Degrees of freedom | 4 axes |
| Motion range | φ600 mm × 200 mm |
| Max. payload capacity | 2 kg |