Steam Turbine Generators Delivered to Malaysia
Oct. 11, 2012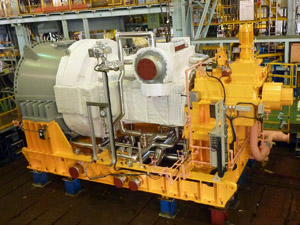 Tokyo, October 11, 2012—Kawasaki Heavy Industries, Ltd. announced today that it has delivered the three steam turbine generator (STG) units ordered in April 2011 by the major Taiwanese engineering firm CTCI Corporation. This marked Kawasaki's first delivery of STGs in Malaysia.
The STGs, each with a rated output of 37.6 MW, have been delivered to Kimanis Power Sdn. Bhd.—an independent Malaysian power company—between July and October 2012. Kimanis Power is currently constructing a 300-MW combined cycle power plant (CCPP*) comprised of gas turbine and steam turbine generators in the Malaysian state of Sabah, and CTCI was awarded the engineering, procurement and construction contract for the project. Electricity generated by the CCPP will be supplied throughout the state.
Since the launch of its first industrial steam turbine in 1956, Kawasaki has supplied approximately 350 steam turbine units worldwide. CTCI's decision to adopt Kawasaki's steam turbines is a testament to their superior performance and lifecycle cost as well as Kawasaki's reliable after-sales services and extensive track record.
Growing power and energy demand in Southeast Asia and the rest of the world is driving Kawasaki forward in cultivating new markets for its STGs as it brings its energy and environmental business to new heights.
*A CCPP uses exhaust heat from a gas turbine to generate steam, which is then used to power a steam turbine for efficient power generation.