LTA Singapore Orders 132 MRT Cars
Aug. 29, 2012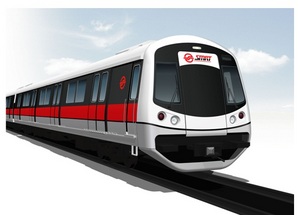 Tokyo, August 29, 2012—Kawasaki Heavy Industries, Ltd. announced today that it has been awarded a 17.7 billion yen contract along with Kawasaki Heavy Industries (Singapore) Pte. Ltd. (KHI-SIN) and CSR Qingdao Sifang Locomotive and Rolling Stock Co., Ltd (Sifang) from the Land Transport Authority (LTA) of Singapore. The three companies will work together to supply 132 train cars to the Singapore Mass Rapid Transit (MRT) system.
Kawasaki will be responsible for the overall project management, design, manufacturing of bogies and procurement of major components. Sifang will be in charge of manufacturing, final fitting and assembly of complete MRT trains and factory testing. KHI-SIN will be responsible for the delivery of complete MRT trains to the depot, on-site testing and commissioning. The new MRT trains are scheduled to be delivered to Singapore between 2015 and 2016.
These new MRT trains will be deployed on the Singapore MRT's existing North-South and East-West Lines where they will increase rider capacity, and also on the Tuas West Extension.
Kawasaki supplied LTA with 396 cars of MRT trains between 1986 and 1989, 126 cars between 1999 and 2001, and 132 cars between 2011 and 2012, some of which were delivered through joint contracts with other companies. An additional 78 cars are to be delivered by 2014.
The history of cooperation between Kawasaki and Sifang goes back to 1985, when they signed a friendship agreement. Since then, the two companies have built up a solid track record within China, including joint contracts for linear motor MRT trains for Guangzhou Metro Lines 4 and 5 and for high-speed trains from the Ministry of Railways. By combining Kawasaki's abundant experience in overseas projects and extensive expertise in MRT trains and Sifang's large-scale production capacity, Kawasaki and Sifang were awarded a contract for the supply of 132 cars of MRT trains from the LTA of Singapore in 2009, followed by an order for an additional 78 cars in 2011. This is the second joint contract for Kawasaki and Sifang in an overseas market outside Japan and China.
Kawasaki will continue to expand its rolling stock business in Asia as well as other global markets.
Overview of the ordered cars
| | | |
| --- | --- | --- |
| | Car type: | MRT cars (22 six-car trainsets, a total of 132 cars) |
| | Dimensions: | 23.5 m(L) x 3.2 m(W) x 3.7 m(H) |
| | Car body material: | Aluminum alloy |
| | Power source: | 750 VDC supplied from third rail |