Kawasaki Delivers Japan's First 110 MW Gas Engine Power Plant
Aug. 16, 2012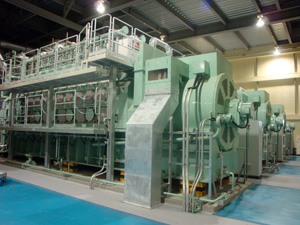 Tokyo, August 16, 2012—Kawasaki Heavy Industries, Ltd. announced today that it has delivered a 110 MW gas engine power plant to Nihon Techno Co., Ltd., a power producer and supplier*, yesterday.
Kawasaki was awarded a full turnkey contract in October 2011 to supply the power plant for Nihon Techno's Sodegaura Green Power Project. The 110 MW power plant, constructed in Sodegaura, Chiba Prefecture, consists of 14 Kawasaki Green Gas Engines with a unit capacity of 7,800 kW and the world's highest generating efficiency of 49.0%. For the project, Kawasaki handled everything from plant design to the supply and installation of plant equipment as well as civil works. The delivery was completed in less than 10 months, and all 14 units in the power plant go into commercial operation today.
Kawasaki's proprietary Green Gas Engines come in two types, a standard model with an electric efficiency of 48.5% and a high-efficiency model with an electric efficiency of 49.0%. Providing superior economic and environmental performance, both types of this innovative gas engine boast low NOx emissions (less than 200 ppm at 0% O2) and cut fuel costs by more than 5% over existing gas engines in their class. Thanks to their low-NOx emissions, the Kawasaki Green Gas Engines require no additional de-NOx system in most areas of Japan. Equipped with electric spark ignition systems, these light-weight and compact engines also do away with the need for liquid fuel.
This order is a testimony to the high evaluation accorded to the outstanding electric efficiency and environmental performance of the Kawasaki Green Gas Engine, as well as its various features including the fast start-up and loading capability that attains maximum load within only 10 minutes. A multi-unit configuration of these gas engines enables highly reliable plant operation, minimizing unexpected power output, and provides superior flexibility, realizing high electric efficiency at various partial loads. Easy operation with the DDS (Daily Start and Stop) system is also a feature that sets this engine apart.
Needs for distributed power systems including small and medium scale utility and captive power plants are increasing to ensure a stable power supply. Kawasaki is continually moving forward to meet those needs and further grow its energy and environmental business through the marketing of its innovative gas engines and other power systems.
*A power producer and supplier (PPS) is defined under Japanese law as a type of independent electricity producing company that produces over 50 kW of high-voltage power and supplies it to factories and large-scale retail stores via the power grids of utility companies.