License Agreement Signed with Shionogi on the Manufacture and Sale of Powder Processing Equipment
Jun. 27, 2012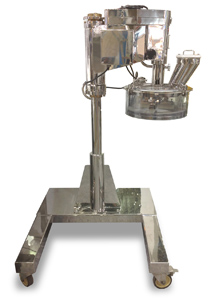 Grinding sifter
Tokyo, June 27, 2012—Kawasaki Heavy Industries, Ltd. announced today that EarthTechnica Co., Ltd., a Kawasaki group company, has signed a license agreement with Shionogi & Co., Ltd. on the manufacture and sale of powder processing equipment previously handled by Shionogi.
The license agreement will cover the manufacture, sale, and repair of equipment, as well as after-sales service and parts provision. Equipment subject to the license includes grinding sifters*1, fluidized bed separators*2, and rotating fluidized bed dryers*3, which are used in the manufacturing process of pharmaceuticals.
The deal will provide EarthTechnica with an ability to build the full manufacturing process—pulverization, sifting, mixing, granulation, drying—making it a major supplier of powder processing equipment for the pharmaceutical industry. The acquisition of the license is expected to boost the company's business in the medium- and long-term.
Although manufacturing and sales operations will be licensed to EarthTechnica, Shionogi will fulfill contracts that are already in execution. After-sales services for equipment sold by Shionogi in the past, as well as all future provision of parts, will be handled by EarthTechnica.
The grinding sifters and panel displays introducing the rotating bed dryers are on exhibit at the 25th Interphex Japan, held from June 27-29, 2012 at Tokyo Big Sight.
| | | | |
| --- | --- | --- | --- |
| | *1 | | Grinding sifters are used to grind solid powder materials to reduce the particle size, while simultaneously removing foreign bodies contained in the powder. |
| | *2 | | Fluidized bed separators remove metallic particles mixed in with granules using a powerful magnet and an air sorter. |
| | *3 | | Rotating fluidized bed dryers continuously dry extruded granules in a rotating vessel. |
| | | | |