Trains Ordered for Taiwan High Speed Rail
May. 24, 2012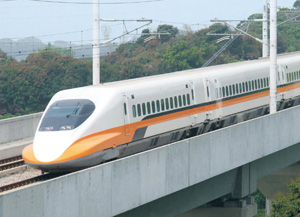 Tokyo, May 24, 2012—Kawasaki Heavy Industries, Ltd. and Toshiba Corporation announced today that they have jointly received an order for four 12-car trainsets from Taiwan High Speed Rail Corporation (THSRC). The contract will be signed today by a consortium of Kawasaki and Toshiba Digital Media Network Taiwan Corporation (TDMT), Toshiba's local subsidiary.
For this contract, Kawasaki will undertake the design and manufacture of the car body and the bogie, as well as the supervision of the entire project, while Toshiba will design and supply the electrical equipment, air conditioning, and on-board train radio system. Delivery of the first train is scheduled for December 2012, with remaining orders to be fulfilled successively by November 2015. This contract comes with an option for up to four additional trains (48 cars).
THSRC has been stepping up its train services to serve a passenger base that has kept growing since it launched revenue service in January 2007. In addition, the company is slated to open an extension line in 2015 covering a 5.7 km section between Taipei Station and Nangang Station. The latest order of additional trainsets has been placed to provide THSRC with a large enough fleet to keep up with its expanding operations.
Kawasaki and Toshiba collaborated in an earlier project for the Taiwan High Speed Rail E&M system as members of the Japanese consortium Taiwan Shinkansen Corporation (TSC). TSC was awarded a contract in December 2000 for the E&M system including the 700T train—the first high speed rail system exported by Japan—with the order amounting to a total of 360 cars. The 700T is based on the Series 700 Shinkansen train, which is operated on the Tokaido-Sanyo Shinkansen line, and modified to meet the requirements of THSRC. The latest order is for the same model, which is a testament to the solid operation record and high reliability that the 700T has maintained since the launch.
Kawasaki and Toshiba will work together to further build on their delivery record with THSRC, with an eye to expanding their global operations in high speed rail business.
Overview of the ordered car
Car type:

9 motor cars, 2 control trailer cars, 1 trailer car

11 regular class cars, 1 business class car, 989 seats/ train

Dimensions:

Lead car: 27 m(L) x 3.38 m(W) x 3.65m(H)

Middle car: 25 m(L) x 3.38 m(W) x 3.65m(H)

Car body material:

Aluminum alloy

Power source:

Overhead wire (single phase 25,000 v AC, 60 Hz)

Maximum operating speed:

300km/h