Three Shield Machines Delivered for Abu Dhabi Sewerage Tunnel Project
Apr. 19, 2012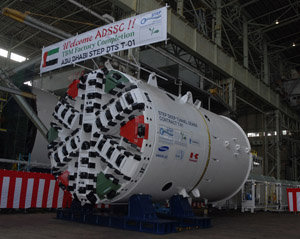 Tokyo, April 19, 2012—Kawasaki Heavy Industries, Ltd. announced today that it has completed the delivery of three shield machines to be used in a sewerage tunnel project in Abu Dhabi, the United Arab Emirates (UAE). The order, which was placed by Samsung C&T Corporation of South Korea in March 2011, was the first for Kawasaki shield machines to be delivered to the Middle East. The first machine was delivered in December 2011, and the last of the three was recently completed at the Harima Works and shipped to Abu Dhabi. The machine will be reassembled locally and start excavating from around the summer of 2012.
These earth-pressure balanced shield machines have a diameter of 5.22 m. The cutting-edge machines will be used for the 42-km long Strategic Tunnel Enhancement Program Project being undertaken by the Abu Dhabi Sewerage Service Company (ADSSC). They will excavate the 16.2-km leg linking the industrial satellite town of Mussafah with central Abu Dhabi. The project is scheduled to be completed by the end of 2014.
Engineered to tunnel through soft ground as well as hard rock and gravel layers, the earth-pressure balanced shield machine can dig through virtually any geological composition. Equipped with an articulation mechanism for excavating curved sections, the shield machines have also been designed to provide the durability and high speed needed to construct long tunnel distances stretching approximately five kilometers.
Kawasaki's long list of achievements includes the delivery of around 1,400 shield machines and tunnel boring machines (TBMs) to customers around the world. This latest order is a testament to Kawasaki's outstanding technological capability as well as the proven track record and reliability of its shield machines that can excavate any type of soil.
Kawasaki expects to see additional orders for shield machines coming from the Middle East where plans for more underground construction work are on the drawing board, including ongoing subway projects in Abu Dhabi, Dubai and Cairo. The outlook for the medium- to long-term looks bright throughout the Middle East as well as Asia with subway construction projects scheduled to break ground in the major Indian cities of Mumbai, Delhi, Calcutta, Chennai and Bangalore, as well as China, Singapore, Thailand, Malaysia and Indonesia. Kawasaki is moving steadily ahead to expand shield machine and TBM sales across the globe.