205,000 DWT Bulk Carrier
Cape Eternity

 delivered

Oct. 25, 2011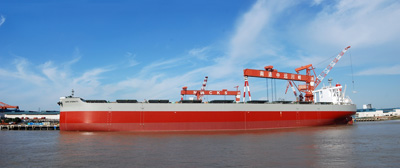 Tokyo, October 25, 2011 — Kawasaki Heavy Industries, Ltd. today delivered the Cape Eternity bulk carrier ,with a capacity of 205,000 DWT (Kawasaki hull no. 1656, NACKS hull no. 98), for KAW 1656 Shipping S.A. at Nantong COSCO KHI Ship Engineering Co., Ltd. (NACKS) in Nantong, China.
Features of theCape Eternity
1. The 300m vessel is fully compliant with the new bulk carrier hull strength rules (IACS Common Structural Rules) for enhanced safety.
2. The vessel employs the latest in technology to achieve maximum fuel economy, including an energy-saving main diesel engine, highly efficient propellers, as well as the Kawasaki semi-duct system with contra fins (SDS-F) and rudder bulb with fins (RBS-F), which all contribute to the vessel's enhanced propulsion performance.
3. The vessel employs double-hull fuel oil tanks and electrical deck machinery to prevent marine pollution.
4. The bulk carrier's anti-corrosion coatings, complying with the new performance standards for protective coatings (PSPC) for ballast tanks, ensure paint quality that is better than ever.