Steam Turbine Generator Delivered to Nippon Coke & Engineering
Oct. 03, 2011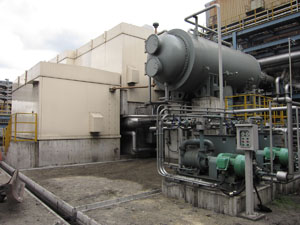 Tokyo, October 3, 2011 — Kawasaki Heavy Industries, Ltd. announced today that it has delivered a 16.5 MW steam turbine generator to Nippon Coke & Engineering Co., Ltd.'s Kitakyushu Coking Works in Fukuoka Prefecture.
Designed to recover and reuse wasted energy, the steam turbine generator will be installed in a coke dry quencher (CDQ*1). A CDQ quenches red-hot coke, dried by distillation in a coke oven,*2 with inert gas and recovers sensible heat*3 using a boiler to produce steam for power generation.
The Kitakyushu Coking Works, Japan's leading coke producer, currently has one CDQ in operation. This additional CDQ and steam turbine generator will significantly boost energy efficiency at Kitakyushu.
Since the launch of its first industrial steam turbine in 1956, Kawasaki has built up a solid reputation that rests on the production and delivery of some 340 steam turbine units. This latest order is a testament to the superior performance and lifecycle cost of Kawasaki steam turbines on top of a proven track record that has made Kawasaki a trusted name across the globe.
Sales of its highly efficient power generation systems, boasting a smaller environmental footprint than ever, continue to grow as Kawasaki moves forward to bring its energy and environmental business to new heights.
About the steam turbine generator
| | |
| --- | --- |
| End user: | Nippon Coke & Engineering Co., Ltd. Kitakyushu Coking Works |
| Output: | 16.5 MW |
| Steam turbine type: | extraction condensing turbine |
| System components: | steam turbine, power generator, electrical and instrumentation systems, condenser |
*1 A CDQ quenches red-hot coke, which has been dried by distillation in a coke oven, with inert gases circulating in a quenching chamber. The CDQ quenching process occurs in a completely air-tight environment. The thermal energy, which would otherwise dissipate into the ambient environment as vapor with conventional wet quenching methods, can be recovered by the CDQ and used to generate electric power.
*2 Dry distillation of coal
A process in which coal is heated at high temperatures to be decomposed into coke and volatile gases
*3 Sensible heat
Thermal energy transferred to or from a substance, resulting in a change of temperature but no change in the substance's physical state