Newly Developed LNG Carrier
Energy Horizon

Delivered

Sep. 09, 2011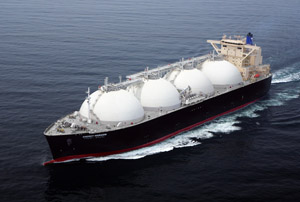 Tokyo, September 9, 2011 — Kawasaki Heavy Industries, Ltd. today delivered the Energy Horizon (Kawasaki hull No.1664), its newest LNG carrier to Tokyo LNG Tanker Co., Ltd. and Nippon Yusen Kabushiki Kaisha (NYK Line). The 300-meter-long vessel is the world's first 177,000 m3 LNG carrier with the largest Moss spherical tanks. In completing this newest vessel, Kawasaki has succeeded in increasing cargo capacity over its most popular 147,000m³ LNG carrier by enlarging the cargo tanks while maintaining all the great features of the 147,000m³ vessel, like a broad utility hull size that is able to enter the world's major LNG terminals and a high propulsive performance hull form.
The Energy Horizon is equipped with the "Kawasaki URA plant", which is the world's first re-heat steam turbine propulsion plant Kawasaki has newly developed. In this plant, the steam, which is generated in the boiler, first works on the high pressure turbine, then is returned to and re-heated in the boiler, and finally works on the intermediate pressure turbine and low pressure turbine. Adopting this re-heat plant and Kawasaki's newly developed boiler, which is able to generate a higher-temperature and higher-pressurized steam than conventional boilers, has dramatically increased the thermal efficiency of the plant. As a result, the fuel consumption has been improved by about 15% compared to conventional steam turbine propulsion plants.
Features
This massive LNG carrier is equipped with four independent Moss spherical tanks boasting a combined cargo capacity of 177,440 m3.
The cargo tanks feature excellent thermal insulation performance thanks to the Kawasaki Panel System which keeps the boil-off rate to 0.1 percent a day.
Double hulls and double bottoms protect the cargo tanks against direct damage.
Thanks to the state-of-the-art integrated navigation system and the circumferential 360° visible windows, operability in the wheelhouse has been improved significantly. This wheelhouse is designed for single-operator navigation during ocean-going voyages.
Monitoring and control of cargo-handling is done from the cargo control room, which is positioned for the best view of cargo-handling operations. The cargo control room is equipped with an integrated automation system (IAS) that monitors and controls cargo-handling operations as well as the status of machinery systems. Kawasaki engineered the IAS for optimal operability by incorporating lessons learned in actual operations and feedback from ship operators into the earliest phases of the design stage.