Nishi-Kobe Works' New Production Facility for Construction Machinery Hydraulic Pumps Goes into Full Operation
Jun. 06, 2011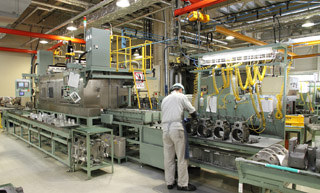 Tokyo, June 6, 2011 — Kawasaki Heavy Industries, Ltd. announced today that it has started full-scale production of hydraulic pumps for construction machinery at its new facility located on the Nishi-Kobe Works site. The Nishi-Kobe Works is Kawasaki's production hub for hydraulic equipment.
The new production facility was built to meet the increasing worldwide demand for hydraulic construction machinery equipment. Completed in December 2008, full operation of the facility had been temporarily halted in the wake of the global financial crisis. As demand in the Chinese market continued to surge over the last year, Kawasaki gradually outfitted the facility with new processing, assembly and other production equipment needed to boost hydraulic pump production capacity.
After an investment totaling eight billion yen, Kawasaki's new facility boasts the latest hydraulic pump production equipment for parts processing, assembly, operation and painting in addition to hydraulic pump production lines transferred from an older facility. The new production facility has raised the Nishi-Kobe Works' annual hydraulic pump production capacity by 20%, bringing the total up from 110,000 units to 130,000.
The construction machinery market is expanding across the globe. China, which is aggressively investing in infrastructure, urban and natural resources development, is hardly the only place where demand is on the rise. Soaring prices for natural resources continues to fuel demand in resource-rich nations throughout South America and elsewhere as well.
Kawasaki will leverage its enhanced production capacity to meet this increasing demand with a keen focus on providing highly reliable, high-performance products to the ever-expanding global hydraulic equipment market. Driven by a deep commitment to improve after-sales and service capabilities, Kawasaki is bringing customer satisfaction to new heights.
About the New Facility
Address: 234 Matsumoto, Hazetani-cho, Nishi-ku, Kobe, Japan
Products: hydraulic pumps
Production capacity: 48,000 units/year
Total floor area: approximately 10,000 m2 (bi-level structure)
Number of employees: 120 (as of May 2011)