Steam Turbine Generators Shipped to Korea
May. 24, 2011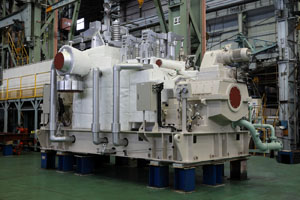 Tokyo, May 24, 2011 — Kawasaki Heavy Industries, Ltd. announced today that it has shipped two 24.2-MW steam turbine generator (STG) units to Hyundai Energy Co., Ltd. in Yeosu, Korea.
Kawasaki received the order for the STG units from Korea's Hyundai Engineering & Construction in September 2009. The STGs will be installed in a cogeneration plant currently being constructed by Hyundai Engineering & Construction at the Yeosu National Industrial Complex. The cogeneration plant, consisting of a coal-fired boiler and two STG units, will supply electricity and steam to the industrial complex. The plant is scheduled to be put into operation in February 2012.
The STG is equipped with both a back-pressure turbine and a double extraction steam system (ESS). Exhaust steam is employed by the back-pressure turbine as process steam while the ESS makes use of steam extracted at the turbine's intermediate stage. These STGs can provide the industrial complex with steam that meets a wide range of requirements.
Kawasaki has established a proven track record that includes the delivery of 345 steam turbine units worldwide. This latest delivery brings the total number of steam turbine units for power generation applications Kawasaki has delivered to Korea up to forty. The order is a testament to the outstanding reliability of Kawasaki steam turbines as well as their superior performance and lifecycle cost. Kawasaki's advanced technical capabilities and high marks from customers around the globe have once again proven to be a winning combination.
Today's growing demand for distributed power generation systems continues to fuel sales at Kawasaki as it moves forward to bring its energy and environmental business to new heights.