Kawasaki Signs Contract for Taichung City Railway System
Apr. 01, 2011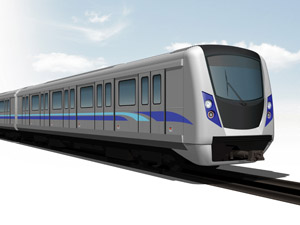 Tokyo, April 1, 2011 — Kawasaki Heavy Industries, Ltd. today signed a contract jointly with Alstom Transport S.A. of France and CTCI Corporation of Taiwan to provide the Department of Rapid Transit Systems, Taipei City Government (DORTS) with a railway system for the Taichung City Government. The contract is valued at roughly NT$10.9 billion (30.7 billion yen*), with design and construction of the electrical and mechanical system package scheduled for completion by October 2017.
In addition to 36 medium capacity transit (MCT) cars, the tri-party consortium will collectively supply the signaling system, power supply system, communications system, automatic fare collection (AFC) system, and depot equipment. The system is for the new eighteen-station Wuri-Wenxin-Beitun Line (Green Line) that will link Beitun Depot in Taichung City with Xinwuri Station (Taiwan High Speed Rail Taichung Station). As the contracting employer, DORTS will administer the construction of the new line. In addition to manufacturing the 36 MCT cars and supplying the depot equipment, Kawasaki will be in charge of project management and system integration as head of the consortium. Alstom will supply the signaling system, CTCI will provide the power supply system, and both firms will supply the communications system and AFC system.
Urban development of Taipei in Taiwan includes planned implementation of the city's transit network system. Kawasaki has previously delivered 132 mass rapid transit (MRT) rail cars to DORTS between 1992-1993, and another 321 MRT rail cars between 2005-2010. Additionally, since receiving an order in March 2007 for the Xinyi Songshan Line, Kawasaki has been involved with CTCI and other in the joint construction of the railway system. Kawasaki is responsible for supplying the signaling system and 138 MRT rail cars, delivery of which commenced in 2010.
In Taiwan, in addition to supplying 360 700T-series high-speed train cars for the Taiwan High Speed Rail Corporation, Kawasaki is currently manufacturing 123 MRT rail cars for Taoyuan International Airport Access MRT System.
This latest contract is further testament to the superior engineering and reliability of Kawasaki-made rolling stocks, as well as the substantial experience and expertise of the Kawasaki Group.
Looking to further expand its rolling stock business, Kawasaki will continue to pursue overseas contracts not only for rolling stock but also as a solution provider of total railway systems.
* yen converted according to the valuation rate on the contract day
□City Transit System Overview
| | | | |
| --- | --- | --- | --- |
| | Track length | : | 16.71 km total extension |
| | Stations | : | 18 stations |
| | Train Configuration | : | Eighteen 2-car trains |
| | Operation | : | Unmanned operation |
| | Signaling | : | CBTC(Communication Based Train Control System) |
| | Power supply | : | Third-rail (750 V DC) |
| | | | |