Natural Gas Compressors Shipped to Korea National Oil Corporation
Jan. 25, 2011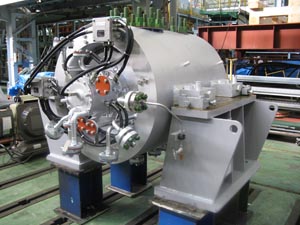 Tokyo, January 25, 2011 — Kawasaki Heavy Industries, Ltd. announced today that it has shipped two natural gas compressors from its Kobe Works to Korea's state-owned energy company, Korea National Oil Corporation Ltd. (KNOC). The compressors will be installed in a gas compression module that is being upgraded under KNOC's Donghae-1 Gas Platform Modification Project (Phase 2) now underway off the coast of Ulsan.
Korea's Hyundai Engineering & Construction placed the order for these compressors in September 2009. These two additional compressors will enhance the compression module's capability to boost gas pressure from older natural gas wells where the pressure has declined due to years of production.
A natural gas compression module is a compact unit comprised of compressors, a driver, gas cooler, scrubber, valves, controllers and other equipment used to compress natural gas on an offshore platform and transport it to land via underwater pipelines. This unit's modular concept allows for optimal installation within the limited space available on an offshore platform.
The gas compression module, originally delivered by Kawasaki in 2008 has been designed to accommodate these additional compressors in anticipation of declining pressure in aging natural gas wells. The module has a number of safety features and proper space inside to perform maintenance tasks.
A trusted compressor manufacturer and comprehensive compression module supplier, Kawasaki is committed to providing ideal solutions to customer's various production requirement. Kawasaki's continuous effort to supply natural gas and environment-related products contributes to protecting the earth's environment.