Industry's First Static classifier-equipped Counter Jet Mill to Be Released
Nov. 26, 2010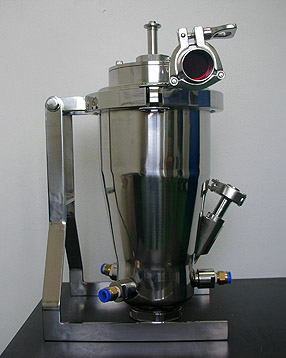 Tokyo, November26, 2010 — EarthTechnica Co., Ltd., a wholly-owned subsidiary of Kawasaki Heavy Industries, Ltd., announced today that it will release the industry's first static classifier-equipped counter jet mill this December.
EarthTechnica's line of JEDI jet mills with built-in high-performance classifier rotors have earned high marks for outstanding grinding performance as well as particle size adjustability. The new jet mill, incorporating the same basic design as the superior performing JEDI, employs a newly developed static classifier that works without the aid of any mechanical drive. It's ideal for use in the battery and pharmaceutical industries where processing small amounts of various types of materials normally requires frequent cleaning and washing of conventional jet mills. This new jet mill is the perfect choice for pulverizing materials that must be free of foreign particles and impurities, as well as R&D.
EarthTechnica will display its new jet mill at the 2010 International Powder Technology Exhibition in Tokyo to be held from December 1 through December 3 at Tokyo Big Sight.
Features of the New Jet Mill
1.Simple design
Free of rotary components, the jet mill's simple design makes disassembly and assembly easy.
2.Easy to clean
No electric components, such as a motor and rotation detector, or bearings, makes the jet mill easy to clean. It can be washed with water without being disassembled.
3.Requires less compressed air
Conventional jet mills with a classifier rotor must use compressed air for a bearing seal as well as to seal the gap between the rotor and its casing. This new jet mill's Static classifier eliminates the need for air seals to cut compressed air consumption by 20%.
4.Wide range of mill options
The jet mill's simple design makes it possible to equip it with a milling unit made from virtually any kind of material, including ceramic, carbide, etc., in addition to the standard stainless steel specification depending on the type of materials to be ground.
5.Easy to maintain
Making the jet mill mechanical drive-free eliminates a lot of maintenance hassles, such as replacing the bearings.
Specifications
| | |
| --- | --- |
| Particle size: | 3 μm – 30 μm |
| Processing capability: | 100 g/h – 10 kg/h |
| Dimensions: | Approx. 500 mm wide x 300 mm deep x 500 mm high |
| Weight: | Approx. 30 kg |
| Required compressor input: | 7.5 kW – 11 kW |
About EarthTechnica    
| | |
| --- | --- |
| Name: | EarthTechnica Co., Ltd. |
| Address: | 2-4, Kandajinbo-cho, Chiyoda-ku, Tokyo |
| President: | Fumio Onishi |
| Date established: | April 4, 2003 |
| Paid-in Capital: | 1.2 billion yen (wholly invested by KHI) |
| Major operations: | Design, manufacture and sale of crushing & grinding, recycling, powder processing and special cast steel and iron products |
| Number of employees: | 284 (as of October 1, 2010) |