Chesapeake Highway

Pure Car Carrier (PCC) Delivered

Nov. 09, 2010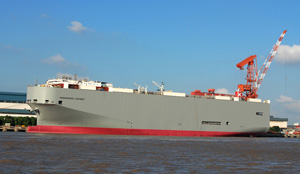 Tokyo, November 9, 2010 -- Kawasaki Heavy Industries, Ltd. announced today that Chesapeake Highway a pure car carrier (PCC) with a capacity of 6,200 cars (Kawasaki hull no. 1652, NACKS hull no. 77), was delivered today to KAW 1652 Shipping S.A. at Nantong COSCO KHI Ship Engineering Co., Ltd. (NACKS) in Nantong, China. The 199.9 meter-long vessel is the first PCC with a capacity of 6,200 cars to be built at NACKS.
Vessel Features
1. For the sake of harbor air quality when the vessel is in port, the vessel has a funnel on the left-hand side to vent exhaust fumes away from quay. Its new design likewise makes first use of a left hand engine which, unlike previous main engines, is mounted bilaterally symmetric, with other equipment also symmetrically mounted.
2. To prevent soot in the generator engine's exhaust fumes from scattering, the vessel has a dust collector that traps soot. The effectiveness of this dust collector has already been demonstrated aboard a PCC with a capacity of 5,000 cars currently in operation.
3. The vessel utilizes a structural design that allows for efficient use of cargo hold space. Moreover, by incorporating a vehicle storage area atop the mooring deck along the ship's bow, it retains enough space to load 6,249 standard-sized cars. The no. 5 car deck, the vessel's loading deck, can also store vehicles carrying hazardous materials.
4. Even large-size vehicles can traverse the cargo hold rampways installed on each deck, while a stern lamp at the rear of the vessel and a side lamp on the right-hand side allow cars to be loaded efficiently from land to ship by driving them directly onto the car decks.
5. Two of the cargo hold's 12 decks are moving "liftable decks" that can be raised to the ceiling and stowed to create a double-high deck that is able to accommodate flexible loading of different types of large-size vehicles, such as buses and trucks.
6. To make the vessel more eco-friendly, the vessel is powered by an electronically controlled ME engine that optimizes fuel injection patterns and exhaust valve opening/closing timing. A choice of operating modes also makes it possible to either reduce fuel consumption or improve emissions performance.
7. The fuel tanks are double hulled to prevent contact with the outer hull and minimize the risk that an oil spill pollutes the oceans in the event of an accident.