Servo Controller for KAWASAKI ECO SERVO
The Servo Controller realizes high-accuracy control of an actuator in combination with the electro-hydraulic hybrid system, "KAWASAKI ECO SERVO". It calculates pump rotation speed based on position, speed, pressure and flow commands from the host controller to output speed specifications to motor drivers.
Features
Realizes remarkable energy saving by optimally controlling electric motor speed.
Enables high-accuracy control of position, speed and pressure combined with actuator-side sensors.
Two kinds are available for position-pressure control and pressure-flow control according to systems.
Specifications
For position-pressure control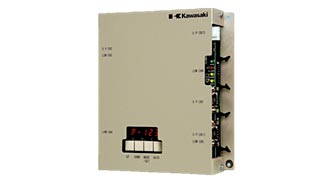 For pressure-flow control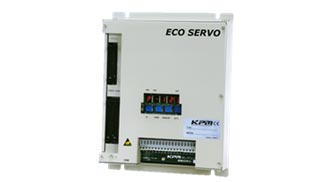 Item
Specification
Power supply
5 VDC / 24 VDC (for signal input/output)
Command-sensor input
For position-pressure control
Position signal (analog/digital)
Pressure signal (analog)
For pressure-flow control
Pressure signal (analog)
Rotation signal (analog)
PR
The servo controller can realize energy saving in equipment and high-accuracy control of actuator in combination with KAWASAKI ECO SERVO.
Download
Applications
Contact