Relation with Group Mission and CSR basic concept
The Kawasaki Group states as its Group Mission, "Kawasaki, working as one for the good of the planet" (Enriching lifestyles and helping safeguard the environment: Global Kawasaki). This denotes contribution to the creation of a sustainable society and also articulates the most important foundation for the Group's CSR. Consequently, CSR activities are fundamentally cumulative efforts to realize the Group Mission at ever higher levels for the Kawasaki Group. We also identifi ed fi ve themes and issues within each theme that we emphasize in our CSR activities. Going forward, we will maintain these efforts, as we bear in mind the expectations and demands of stakeholders, and we will reinforce our foundation of value creation.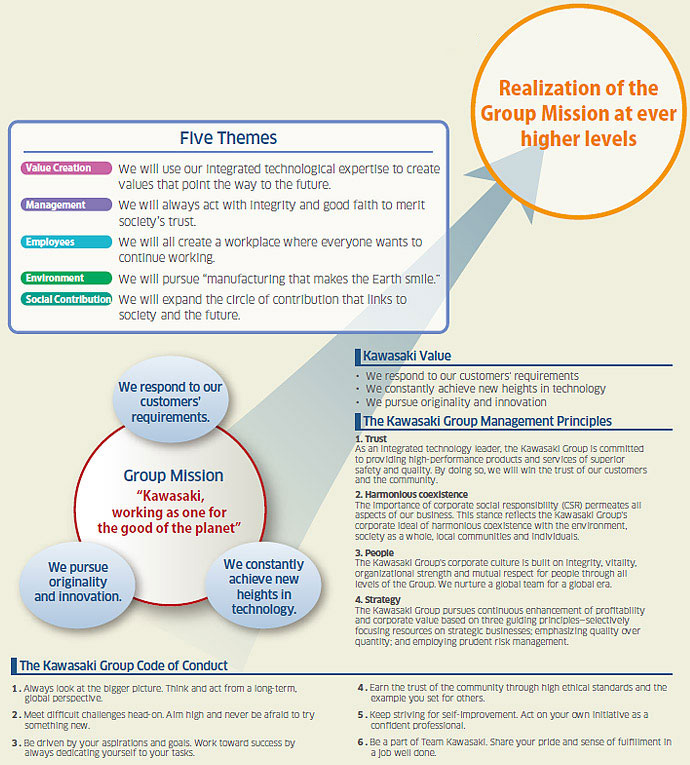 ---
Message
Overview by Director in Charge of CSR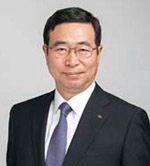 Kawasaki Group has a duty, encapsulated in the Group Mission, "Kawasaki, working as one for the good of the planet", and strives constantly to create new value that is of use to society on a global basis. Amid intense transformation of the social landscape, the issues and associated risks that we, as a corporate group, must address are also evolving. We will overcome perceived challenges as we pursue dialogue with our stakeholders, and thereby strengthen our business foundation.
---
Contact