Building the Kawasaki Group CSR Framework, and Issues for Action
The Kawasaki Group's CSR activities embrace five themes. Within each theme, we have established individual categories, for each of which there are set action goals.

---
Major Activities to be Implemented during MTBP(Medium-term Business Plan)2016
Ongoing review of issues to be addressed
Promoting integration of business management and CSR
Further expansion of CSR activities at overseas Group companies
CSR surveys on the supply chain
Discussions on materiality
Improving CSR knowledge of employees
Further enhancement of stakeholder engagement
---
Evaluation subject : non-consolidated,Kawasaki group

Self-assessment grades marking achievement of medium-term goals:
:
Will take action going forward
:
Some action taken
:
Robust action taken
:
Sufficient action taken but further improvement targeted
Theme

Categories

Action goals

MTBP 2016
Goals/
Approaches
Self-
Assessment
of MTBP
2016
Targets
(March
2017)

Overall

CSR overall

Realize the Group Mission (KHI's duty to society) at a higher level.
Clarify the KHI Group's social responsibility, make employees fully aware that CSR is a Group-wide obligation, and cement a structure to promote relevant practices.
Listen to stakeholders' opinions and reflect these comments in corporate activities and business operations.
Respect the Global Compact, UN Millennium Development Goals, and ISO 26000 and other international CSR-related standards.
Value
creation

Product
development

Draw on comprehensive Group capabilities and apply sophisticated technologies to the development of high-performance, high-quality products.
Strive to contribute to a sustainable society through business activities and products.

Product
responsibility

Provide products and services that are reliable and safe from the customer's perspective.
Create products that customers can trust and seek to further improve quality and product safety.

Customer
satisfaction

Provide products and services that meet customer needs and leave a very positive impression.
Track customer satisfaction and strive to boost the level higher.

Management

Corporate
governance

Pursue sound, transparent management, enable each business segment to operate independently, and demonstrate the combined strengths of the Group.
Target further improvement in corporate governance.

Compliance

Build an organization that is open and self-regulating to underpin a corporate culture with credibility.
Familiarize all employees with KHI's code of corporate ethics and code of conduct.

Information
security

Institute reliable information security measures and maintain the safety and security of information.
Target further improvement in all existing measures to protect information.

Information
disclosure,
IR activities

Provide timely, accurate corporate information and further enrich the content of disclosure.
Target further improvement in shareholder and investor communication practices.

Business
partners

Coexist with business partners and maintain fair partnerships while promoting collaboration in CSR activities.
Promote cooperation in CSR management with business partners.

Employees

Safety and
health

Create a safe, pleasant working environment where employees can perform their jobs in good health and in a positive state of mind.
Ensure appropriate use and continuous improvement of occupational safety and health management system with due consideration to employee safety and health.

Human
resource
development

Consistently cultivate the skills of employees, refine acquired talents, and raise the value of personnel assets to the highest level.
Apply measures to maximize the personal value of employees.

Human rights
Labor

Respect the diversity of employees and strive to create a workplace that embraces wide-ranging values and abilities and utilizes them to the full.
Endeavor to create a workplace that provides motivation and satisfaction and one in which employees are treated fairly and appropriately.
Implement initiatives to enhance employees' awareness of human rights issues.
Look to utilize the long-term benefits of equal opportunity and diversity.
Strengthen initiatives to create a pleasant work environment for employees.

Environment

Global
environment

Strive to realize a low-carbon society, a recycling-oriented society, and a society that coexists with nature.
Steadily reduce annual CO2 emissions and energy consumption.
Reduce amount of waste and promote reuse and recycling.
Steadily reduce environmentally hazardous substances.
Social
contribution

(Overall)

-

Clearly define Group-wide social contribution vision, basic policy and key areas, and implement activities.

Local
communities
and Japanese
society

Coexist and cooperate with local communities and help nurture new generations that will develop future "dream" technologies.
Encourage self-planned and self–sponsored social contribution initiatives.

International
community

Respect the myriad cultures of countries around the world and contribute to their vibrancy by cultivating technology and human resources in these countries.
---
Focus
Addressing Human Rights and Labor Issues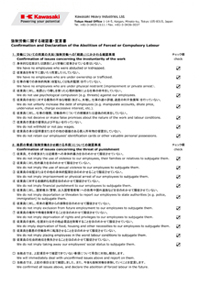 In fiscal 2015, we implemented an initiative targeting the global human rights and labor issues of child labor and forced labor to confirm that no company under the Group umbrella is involved in such practices and to declare that none will ever employ such practices. This style of confirmation and declaration, acknowledged and supported by the Global Compact Network Japan secretariat, was prepared in line with "Global Compact Labor Principles and Business Guidelines" and was signed by the presidents of all Group companies, including those overseas. In addition, all Group companies, including those overseas, prepared CSR Procurement Guidelines, which cover respect for human rights, and called on business partners to work as a team to uphold these guidelines.
---
Contact