Material Handling System
Kawasaki continues to build an excellent track record in delivering its Material Handling Systems using our state-of-the-art control technologies. Our systems are designed to handle a series of material handling processes -- excavating coal, iron ore, etc. Kawasaki undertakes all aspects of its Material Handling Systems from total engineering to design and manufacturing of the primary equipment.




Features
Using Kawasaki's own developed technologies, we are able to deliver each equipment component of a Material Handling System ensuring a cohesive running system. In addition, each equipment component is energy-saving and environmentally friendly. Our Flow Dynamics Conveyor (FDC) is a totally enclosed system, featuring an air floating belt which is especially environmentally friendly, including excellent low noise, low vibration and greatly reduced dust emission when compared to a conventional conveyor.
Delivery Record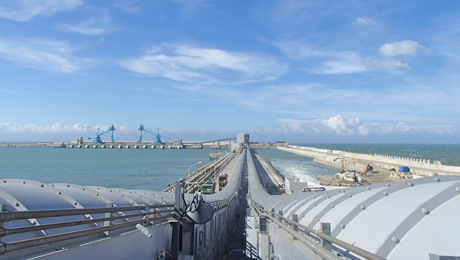 | | Equipment | Delivery Record (unit) |
| --- | --- | --- |
| 1 | Stacker, Reclaimer, Stacker-Reclaimer | 114 |
| 2 | Container Crane, RTG | 45 |
| 3 | Shiploader | 30 |
| 4 | Continuous Ship Unloader | 12 |
| 5 | Bucket Wheel Excavator (BWE) | 8 |
| 6 | Flow Dynamics Conveyor (FDC) | 264 |
| 7 | Belt Conveyor (including Vertical Conveyors) | Numerous |
| 8 | Silo, Rotary Feeder and Others | Numerous |
Contact