Building an Environmental Management Platform
Kawasaki is establishing environmental management systems (EMS), and is conducting various initiatives aimed at realization of a low-carbon society, realization of a recycling-oriented society, and realization of a society coexisting with nature.
The long-term vision set forth for 2010 and 2020 serves as a guideline for the achievements we intend to realize through EMS operation. The appropriate operation of EMS has led to continued reductions in our environmental impact, and we will continue EMS operations going forward, with an aim toward further achievements.
---
Environmental and Energy Management Organization
With regard to environmental management, the director responsible for environmental issues at KHI is appointed ChiefEnvironmental Officer and in this position chairs the Corporate Environment Committee, which discusses a variety of important matters related to the environment and makes pertinent decisions. So that each internal company can independently roll out the environmental management activities plan, an Environmental Management Officer, an Environmental Protection Officer, a senior manager responsible for environmental protection, and a manager responsible for environmental protection are appointed to match the structure of each internal company with such activities. Furthermore, management systems are in place to encourage coordinated efforts among all employees to implement environment-oriented initiatives.
In its efforts to promote the efficient use of energy, KHI has established an energy management structure that includes appointing the Chief Environmental Officer to the concurrent position of Chief Energy Officer as well as assigning energy officers matched to the business scale of each internal company. An active approach is taken to promote measures and programs. In addition, environmental management and energy management structures applicable to subsidiaries are being set up under each administrative division (the head office and internal companies) under which the subsidiaries operate.
Environmental Management Organization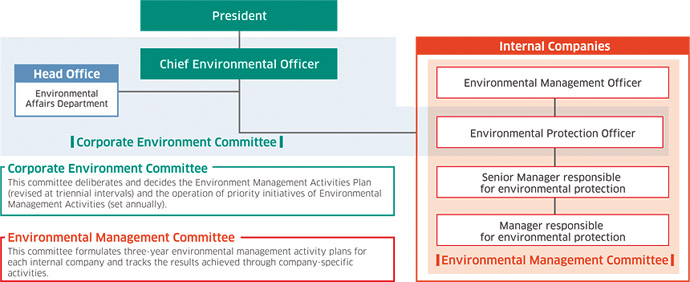 Energy Management Organization

---
Using IT Systems
KHI uses the Environmental Data Management System,also known as ECOKEEP, to manage target values for its environmental management activities plan. The system manages environmental data through an electronic manifest. We also use an energy visualization system,designated K-SMILE, which is designed to reduce energy consumption mainly through energy-saving approaches. Because environmental management activities are an important element of business operations, we strive to fully realize Environmental Vision 2020 while undertaking quantitative assessments based on cooperative IT systems.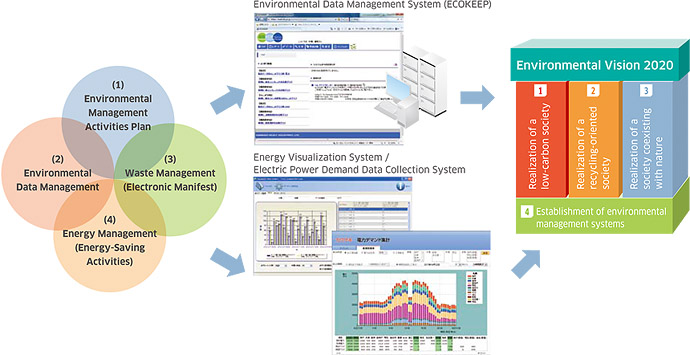 ---
Kawasaki Group EMS
To promote environmental management throughout the Group, Kawasaki and its subsidiaries embrace the practice of building an environmental management system.
Kawasaki's manufacturing sites and domestic and overseas subsidiaries have completed the acquisition of ISO 14001 certification or simplified EMS certification, or established EMS through self-declaration within the scope of its stipulation.
The latest information on the establishment of EMS within the Group is shown in Figure 22, while the current situations for acquiring ISO 14001 certification for Kawasaki's manufacturing sites is shown in Table 7 and the status of EMS establishment at subsidiaries is shown in tables 8 and 9. In response to the revision of ISO 14001, we are promoting the transition to ISO 14001:2015.
For sites engaged in EMS implementation, efforts are being directed toward the collection of environmental data and the sharing of such data at the Head Office Environmental Management Division. In addition, this division makes visits to subsidiaries, in order to further instill our environmental management policy as a Group. During fiscal 2017, visits were made to four large-scale subsidiaries in Japan, in order to share awareness with local departments.
Breakdown of EMS Certification, by Type, within the Group(on an employee basis)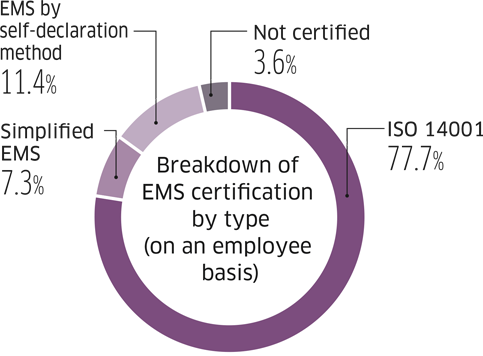 Note: Denominator is number of employees within the Group on a consolidated basis.
---
Risk Management
In addition to approaches based on our risk management structures, we hold liaison conferences from time to time for personnel with environmental responsibilities to ensure adherence to environmental laws and regulations, dissemination and full understanding of legal revisions, and the enhancement of their capabilities. These conferences, which are held under the direction of the Head Office Environmental Management Division and personnel with environmental responsibilities at the Group, focus on compliance with environmental laws and regulations to preempt environmental accidents and other situations.
During fiscal 2017, we confirmed the response status to managers responsible for environmental protection in advance of the enforcement of the Act on Preventing Environmental Pollution of Mercury.
---
Compliance with Laws and Regulations
Within the Kawasaki Group, environmental management activities are undertaken in the Group's efforts to comply with environmental laws and regulations.
There were no cases subject to administrative actions in fiscal 2017.
While there was one case involving a complaint from neighborhood residents related to noise generated from a defect in a portion of the steam piping within a plant, the issue was resolved by repairing the piping. In order to prevent the occurrence of similar incidents, information is shared internally through our environmental management systems.
---
Promoting Environmental Communication
●
Raising Environmental Awareness
We are engaged in public relations activities aimed at enhancing the perception and awareness of environmental issues among each and every employee of the Group. We conduct ongoing awareness raising activities including the publication of environment-related articles in the Kawasaki internal bulletin, distribution of the President's message for Environment Month, and distribution of information (environmental data, case examples of energy saving, etc.) through our intranet, so that employees can put environmentally conscious activities into practice not only at the workplace, but also in local communities and homes.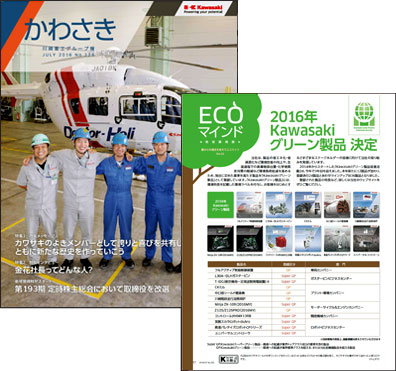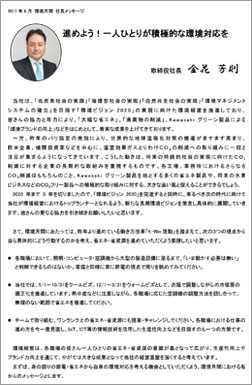 ●
Environmental e-Learning
To maintain and improve environmental awareness among employees throughout the domestic Group, we offer environmental e-learning opportunities to new employees at both Kawasaki and domestic subsidiaries.
In fiscal 2017, approximately 1,100 people completed the training.
●
Cultivating Qualified Managers
To enrich management activities emphasizing energy and the environment,we are striving to cultivate individuals with legal qualifications required under laws and regulations related to energy and the environment. The number of employees with qualifications in fiscal 2017 is shown in tables 10 and 11. In addition, as an internal qualification, we offer training for internal ISO 14001 environmental management and environmental auditors, through which approximately 80 employees acquired qualifications in fiscal 2017.
Furthermore, follow-up training has been conducted for employees that have already participated in training to support the transition to ISO 14001:2015,and approximately 1,200 employees acquired qualifications in fiscal 2017.
Number of Qualified Pollution Control Managers
| | |
| --- | --- |
| Air | 82 |
| Water | 69 |
| Noise, vibration | 38 |
| Others | 77 |
| Total | 266 |
Number of Qualified Energy Managers
---
External Information Disclosure
Kawasaki discloses information to our stakeholders through means such as the Kawasaki Report, the Environmental Report, and our website. In addition, we receive questionnaires from many external evaluation organizations, including: the CDP Climate Change Information Request, published by the CDP; the Environmental Management Survey, conducted by Nikkei Research Inc.; the Toyo Keizai CSR Survey; and the Dow Jones Sustainability Index, which we view as the voice of stakeholders representing investors, and we vigorously pursue the disclosure of environmental information by responding to such questionnaires.
As a result, we have continuously been selected as a stock for investment for the DJSI Asia Pacific Index, and the SNAM Sustainable Investment Fund, which is managed by Sompo Japan Nipponkoa Asset Management Co., Ltd. (SNAM).
---
Contact