Kawasaki to Participate in Rolls-Royce Trent XWB Program
Jan. 07, 2009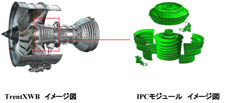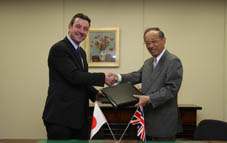 Tokyo, January 7, 2009 — Kawasaki Heavy Industries, Ltd. announced today that it has reached a formal agreement with Rolls-Royce plc. to participate in the development and production of the Trent XWB engine as a risk and revenue-sharing partner. The Trent XWB, the latest installment in the Trent aircraft engine series, will be used to power the new Airbus 350. The Airbus 350 is a mid-sized aircraft designed to seat 250 to 350 passengers that is currently under development by Airbus S.A.S.

Kawasaki will participate in the design and be responsible for the production and assembly of the intermediate pressure compressor (IPC) module for the Trent XWB. As one of the eight main modules that constitute the engine, the IPC module has a diameter of about 1.5 m, a length of about 1.5 m and is comprised of approximately 4,000 components. The Trent XWB is the second model following the Trent 1000, for which Kawasaki will participate in the design work and take responsibility for the production and assembly of the entire module.

Kawasaki's engineers have already been sent to Rolls-Royce to work on the joint development of the IPC module. Kawasaki's share of the workload accounts for about 7% of the entire Trent XWB program.

The 74,000 to 92,000 pound thrust Trent XWB is the newest addition to the five aircraft engine models currently on the market under the Trent brand. The Trent family is Rolls-Royce's core line of aircraft engines, boasting a track record of 2,500 units ordered.

The close working relationship between Kawasaki and Rolls-Royce dates back to 1959 when the two companies formed a technical alliance for the overhaul of the Orpheus jet engine. Since then the partnership has expanded to encompass a wide range of areas including defense aircraft engines and commercial aircraft.

In the commercial aircraft field Kawasaki has participated in engine development and production programs for Rolls-Royce's RB211, as well as the Trent series of engines numbered 500, 700, 800, and 1000. Both Kawasaki and Rolls-Royce are working on the development and production of International Aero Engines' V2500 engine.

Kawasaki's participation in the Trent XWB development and production program is sure to strengthen the enduring bond it has forged with Rolls-Royce over the years.