Kawasaki to Reproduce Z1 and Z2 Engine Parts (Cylinder Heads)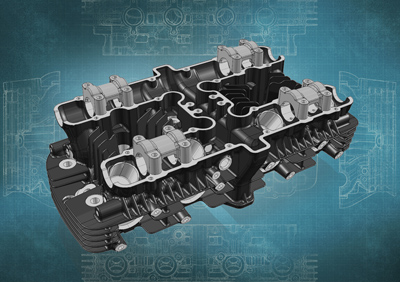 | | | |
| --- | --- | --- |
| | | |
| | Z1 | Z2 |
Tokyo, March,1, 2019 — Kawasaki Heavy Industries, Ltd. announce today that it will start reproducing cylinder heads for the 900 Super Four/Z1 (hereinafter referred to as "Z1"), which was introduced in 1972 and went on to solidify Kawasaki's position as a global leader in the large-displacement bike category, as well as for the 750RS/Z2 (hereinafter referred to as "Z2"), a Japanese-market version of the Z1, to cater to fans of these historic models around the world. The company will establish a dedicated online sales website in fall 2019 to take customer orders.
The Z1 gained popularity immediately after its debut and sold well over 100,000 vehicles around the world. It is a historic model that came to be recognized as a symbol of Kawasaki motorcycles. Its impressive power, high reliability and environmentally-friendly features have been retained over the years, passed down to current-generation models. The Z2, launched in 1973 for the Japanese market, sold more than 20,000 vehicles.
As these models near their 50-year anniversary, these long-popular, classic models remain loved and admired by many riders. Numerous Z1s and Z2s, restored to beautiful, working condition, can be found around the world today. In order to meet the needs of Z1/Z2 owners and support their lifestyles as motorcycle riders, Kawasaki has decided to reproduce the cylinder heads for the Z1 and Z2.
Kawasaki will reproduce the cylinder heads using current methods based on original part design plans and specifications. The cylinder heads will be manufactured domestically. Kawasaki plans to produce 1,000 units initially, with production to be stepped up as needed depending on order volume.
Furthermore, the company will examine possibilities of reproducing other parts, as well as out-of-stock parts of other historical Kawasaki motorcycles, taking into account customer feedback on this reproduction project.
Part Composition (includes the parts below)
Camshaft brackets
Valves and peripheral parts
Tappets
| | |
| --- | --- |
| * | Not intended to be an exact copy of the original, including the shape and surface quality, based on production standards at the time. |
| * | Does not include camshafts, a cylinder head cover, gaskets, etc. |
| * | Features M8 exhaust-pipe-attachment stud bolt dimensions from later models. |
| * | Does not fit on the Kawasaki KZ1000 MKII and other so-called "square head" models, which feature a second-generation square cylinder head cover that is slightly thicker. |
Compatible Models
| | |
| --- | --- |
| | See compatibility chart (appendix). |
Initial Countries of Sale
| | |
| --- | --- |
| | Japan (sales as Z1 part in overseas markets under consideration) |
Sales Points
A dedicated online sales website will be established (planned for fall 2019) to take customer orders, with actual sales scheduled to begin in 2020.
* This product will be manufactured and sold by Kawasaki Heavy Industries, Ltd.
Price
* Product details are subject to change without prior notice.
Compatibility Chart (Separately Attached)
Inquiry Contact
Kawasaki heritage parts contact
Tel
0120-347-010 (Japanese-language only)
Hours
9:00 AM to 6:00 PM, Monday to Friday, JST
(excluding national and special company holidays in Japan)
Website
https://www.heritage-parts.khi.co.jp/en/ (English)
Contact