Kawasaki Pursues Further Spread of Regenerative Medicine with Its New AUTO CULTURE Automated Cell Processing System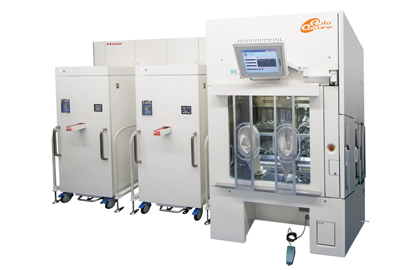 New AUTO CULTURE automated cell processing system
Tokyo, March 20, 2018 — Kawasaki Heavy Industries, Ltd. announced today that it has completed development of its new AUTO CULTURE*1 automated cell processing system. The system enables consistent-quality, low-cost cell culture operations on various scales and is expected to help promote the adoption of regenerative medicine. Starting today, Kawasaki will begin approaching companies seeking the commercialization of regenerative medicine to offer the system as an ideal solution for their business needs.
Kawasaki developed the AUTO CULTURE system by leveraging synergies between relevant technologies in areas such as plant engineering and clean robots for medical and drug discovery applications. This new system at least maintains the same high quality achieved through manual cell culture operations by experienced technicians while fully automating all operations from seeding to harvesting. By automating the entire cell culture process, the system achieves safe and consistent cell cultivation, lowers cell culture costs, enables more flexible response to changes in production volume, improves the work environment for technicians, and achieves other breakthroughs to solve a plethora of problems.
Compared with past Kawasaki systems, the new AUTO CULTURE attains higher production efficiency through its ability to handle multiple flasks simultaneously. It also includes enhanced measures to prevent problems such as contamination and operator errors, and reduces costs while increasing safety and consistency in cell culture operations. Furthermore, incubator*2 units and reagent storage cabinets are detachable from the main system unit, allowing for seamless capacity increases from clinical trials to commercial production. The system is capable of handling various flask sizes, and operators can adjust settings for cultivation operations, enabling cultivation of induced pluripotent stem cells (iPS cells), mesenchymal stem cells (MSCs) and a wide range of other cell types.
Kawasaki began developing its automated cell processing system in fiscal year 2004 and has made steady progress since, delivering about ten units (including demonstration units) for drug discovery research and regenerative medicine usages. Kawasaki made full use of the know-how and achievements accumulated over the years in developing the new AUTO CULTURE. Moving forward, Kawasaki will continue utilizing automation and production technologies, including those from the field of robotics, in pursuit of further advances in the medical field.
Advantages of the AUTO CULTURE System
Impressive Performance
This system has been designed with the productivity-related demands of real-life operations in mind, offering faster process speeds, parallel processing for simultaneous handling of multiple flasks, and more.
Scalability
The option of installing additional incubator units and reagent storage cabinets allows for various production capacities, scalable from clinical trials to commercial production.
Consistent Operations
Automated operations enable high reproducibility of cell culture tasks, preventing problems such as operator errors to achieve safe, more consistent overall operations.
Various Cell Culture Process Applications
Options such as multiple flask sizes and setting adjustments for culture operations enable cultivation of a wide range of cell types. The system can also be used in cell culture process development.
Excellent Traceability
Integrated management by unit ID of task history, cultivation environment details, cell conditions and more ensures highly reliable traceability.
Contamination Prevention
HEPA filters*3 are used to maintain clean operating environments, and countermeasures including UV radiation and vaporized hydrogen peroxide (VHP) decontamination prevent cross-contamination.

*1

"AUTO CULTURE" is a registered trademark of Kawasaki Heavy Industries, Ltd.

*2

A device used to cultivate cells. Internal environmental conditions are maintained at levels suited to cell proliferation.

*3

High efficiency particulate air filter. A type of high-performance air filter.
Detailed Specifications
Target cell types
Adherent cells
Automated processes
Seeding, medium change, passage, harvesting, cell observation, other

Culture vessels

T25, T75, T175, T500 (triple) flasks
Capacity
Up to 8 cell culture flasks per incubator unit (additional, detachable incubator units and reagent storage cabinets enable increased processing capacity)
Decontamination methods
UV radiation and VHP decontamination
Equipment dimensions
Main unit (W × D × H): 4.2 m × 2.6 m × 2.4 m
Incubator / reagent storage cabinet unit (W × D × H): 0.9 m × 0.8 m × 1.9 m
Contact