Kawasaki Exhibits Six New Models Including the Ninja 1000 (Z1000SX in Europe) and Ninja 650 at INTERMOT 2016
Tokyo, October 4, 2016 — Kawasaki Heavy Industries, Ltd. announced today its plans to exhibit six new 2017 motorcycle models for European market at INTERMOT 2016*1 in Cologne, Germany for five days starting on Wednesday, October 5.
At this year's INTERMOT, Kawasaki will exhibit the sport-touring motorcycle Ninja 1000 (known as the Z1000SX in Europe) from Ninja series. The new model preserves the sharply honed appearance of past Ninja incarnations while simultaneously offering a refreshing new look. Designed as a high-performance sport model boasting practical features optimized for touring purposes, the Ninja 1000 also incorporates cutting-edge electronic control technologies that make for an even more polished ride.
The Ninja 650, an all-around sport model, will also be shown at the event. The Ninja 650 features a new design characterized by slim, sharp styling similar to Kawasaki's supersport line. Reworked engine characteristics and significant weight reductions provide greater supersport performance and easier handling in this new model, making for a motorcycle that offers everyday excitement to all riders, from beginner to advanced.
Two additional flagship models from Ninja series, the H2 Carbon designed for public-road use and H2R for closed-course use, will also appear at the event. Both are equipped with supercharged engines for impressive acceleration, and this coupled with a KCMF (Kawasaki Cornering Management Function) comprehensive engine and chassis management package operating on advanced software enables higher-performance sport riding.
Additionally, the Ninja ZX-10RR, a variation on the supersport Ninja ZX-10R, will be shown at INTERMOT 2016. With revised engine specifications and new aluminum forged wheels jointly developed with Italian wheel manufacturer Marchesini, this bike boasts improved circuit performance. It also features distinctive color design modeled after the racing version.
Finally, Kawasaki will also be showing the Z1000, the largest-engine-displacement model of the Z Series, which is one of Kawasaki's signature brands along with the Ninja. Reprogramming of the ECU*2 not only ensures smoother power delivery performance, it enables compliance with Euro 4 European regulations. Suspension and brake adjustments have also been carried out to take advantage of the motorcycle's aggressive characteristics while simultaneously improving vehicle handling.
*1

Europe's leading motorcycle show to take place in Germany.

*2

Engine control unit. The ECU reads values from multiple sensors and adjusts fuel injection amounts and timing, spark ignition timing and other operations to effectively control engine performance.
Features of New Models for 2017
Ninja 1000 (Z1000SX in Europe)
The Ninja 1000/Z1000SX combines the powerful performance and aggressive styling of supersport models with the practical functionality as a sport touring model. Its new design maintains the traditional look of the Ninja motorcycle line, and the adoption of LED headlights makes for an even more sharply-honed overall image. Performance on the 1,043 cm3, liquid-cooled, four-stroke inline-four engine is characterized by quick throttle response and strong mid-range acceleration, and tuning of ECU programming enables smoother engine response, to achieve well controllability and comfort. New designs for sections including the windscreen and fairing components have been adopted to wind-protect performance, and the seat's surface area has been enlarged for better rider support—fulfill practical features for touring. Moreover, introduction of cutting-edge electronic control technologies via the KCMF comprehensive engine and chassis management package makes for a sporty yet comfortable ride that also feels more polished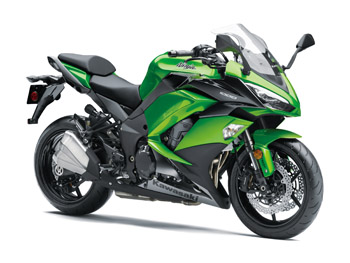 Ninja 650
This all-around sport model offers an outstanding balance between sporty performance and comfort, complete with a revamped slim-and-sharp design reminiscent of the supersport Ninja ZX-10R. The lightweight and compact 649 cm3, liquid-cooled, four-stroke, parallel twin engine offers powerful low- and mid-range torque along with agile throttle response. Moreover, the new lightweight trellis frame and swingarm achieved using Kawasaki's proprietary analytical technologies, the new horizontal back-link rear suspension design, and other such structural features enable lighter-feeling, more comfortable vehicle handling for an exciting, sporty ride complemented by reliable, steady handling characteristics. The bike's practical design features, such as the light-and-slim body design, high-position handlebars, comfortable seat that allows both feet to easily reach the ground, and height-adjustable windscreen, make for more enjoyable day-to-day use.
Ninja H2 Carbon and Ninja H2R
These flagship Ninja series are high-performance sport models developed through the corpotated Kawasaki Group technologies. The 998 cm3, liquid-cooled, four-stroke, supercharged inline-four engine provides breathtaking acceleration that eclipses naturally-aspirated engine performance. Incorporation of Öhlins TTX 36 rear suspension, as well as the KCMF comprehensive engine and chassis management package designed using a proprietary Kawasaki dynamic modeling program along with inertial measurement unit (IMU) analytical data, enable a more sophisticated sport-type riding experience than ever before.
Designed in pursuit of a high-quality final product, the Ninja H2 Carbon for public-road use offers the same carbon-fiber upper cowl, silver-mirror matte paint and other elements of the Ninja H2R racing model. Production for the Ninja H2 Carbon is limited to a mere 120 units.
The dedicated race-circuit Ninja H2R boasts engine output surpassing 300 horsepower. The new Vortex Down Control Wings made of carbon fibers generate downforce for the vehicle, boosting stability at high-speed ranges.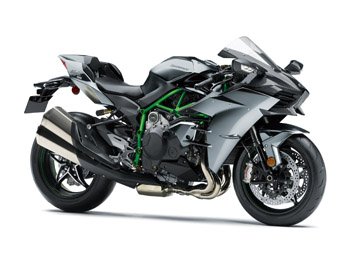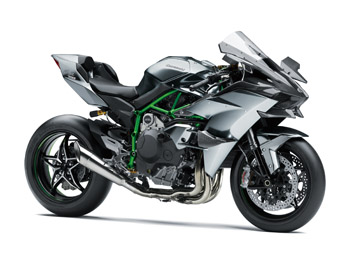 Ninja ZX-10RR
A variation on the supersport Ninja ZX-10R, the Ninja ZX-10RR is equipped with a 998 cm3, liquid-cooled, four-stroke, inline-four engine designed to achieve high power and excellent control, and race data has been utilized to realize better performance as well as reliability in extremely high-speed ranges. This vehicle uses new aluminum forged wheels, jointly developed with Marchesini and designed to achieve a lower moment of inertia, and these combined with specially designed, high-performance tires enable greater circuit performance. The body's color design is the same as that of race machines used by the Kawasaki Racing Team during winter test runs, giving this model an impressive racing-vehicle feel.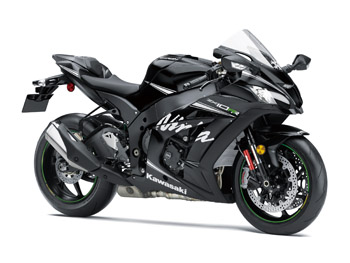 Z1000
The Z1000 is the largest-engine-displacement model of the Z Series, which is one of Kawasaki's signature brands along with the Ninja. By reprogramming the ECU and achieving even smoother power delivery, developers have created an engine that facilitates aggressive vehicle characteristics while offering stable handling on which riders can rely. Moreover, fine-tuning of the catalytic converters has enabled compliance with Euro 4 European regulations. Adjustments to front and rear suspension settings achieve nimbler and more natural handling, and redesign of the braking components bolsters overall handling further. Additionally, the inclusion of a gear position indicator and upshift indicator on the instrument panel makes the Z1000 feel more sporty. Aesthetic enhancements include changes to the turn-signals and inner-rear fender to emphasize the cutting-edge look of the Z Series line.
.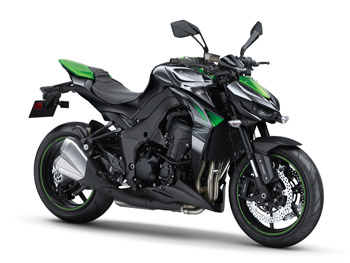 Exhibited vehicles
Ninja 1000 (Z1000 SX)
Ninja 650
Ninja H2 Carbon
Ninja H2R
Ninja ZX-10RR
Z1000
Vulcan S (Cafe)
J300
J125

Total 41 motorcycles, 20 models
Contact