Kawasaki to Participate in Rolls-Royce Trent 7000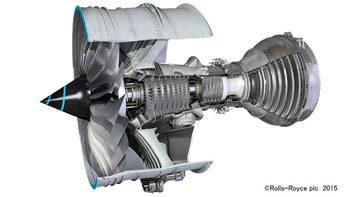 Tokyo, June 15, 2015 —Kawasaki Heavy Industries, Ltd. announced today that it has reached an agreement with Rolls-Royce on contracts for Kawasaki's participation in the Trent 7000 engine programme as a Risk and Revenue Sharing Partner, including module design, development and production activities.
The Trent 7000 is the exclusive powerplant for the Airbus A330-neo aircraft, which is improvement of A330-200/300 and currently under development by Airbus S.A.S.
Kawasaki will participate in the design and be responsible for the production and assembly of the intermediate pressure compressor (IPC) module for the Trent 7000. As one of the eight main modules that constitute the engine, the IPC module has a diameter of about 1.5 m, a length of about 1.5 m and is comprised of approximately 4,000 components.
Kawasaki and Rolls-Royce have previously worked together on military, marine and civil aerospace engines in a relationship dating back to an overhaul license agreement on Orpheus engines in 1959. In 1988 Kawasaki began its participation in Rolls-Royce civil engine programmes, on the RB211-524 and Trent 700.
Contact