efSET
Weaving a New Future

Kawasaki Heavy Industries, Ltd., proudly presents its new generation high speed train "efSET"; an acronym for "environmentally friendly Super Express Train". The "efSET" features compliance to international standards and additional technical features which support the successful operation in revenue at the speed of 350km/h, while maximizing passenger comfort. The "efSET" is a new technical solution for passenger transport; offering highest reliability as well as highest level of performance to ensure environmental protection.
Safety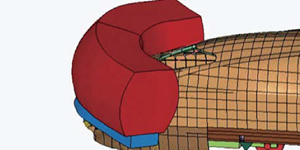 1.High crashworthiness
Kawasaki's advanced Crash Energy Management technology ensures the high crashworthiness performance, and shows good compatibility with various railway standards. efSET can fulfill crashworthiness requirements by each customer.
2.High fire safety
High fire safety is secured through the examination of structures by thermal deformation analysis and fire resistance tests.
Energy-Saving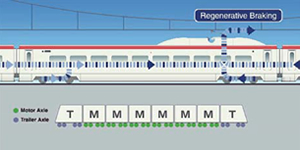 1.Effective regenerative braking
Stable regenerative braking by the high ratio of motor cars reduces power consumption and brake pad wear.
2.Decrease in the aerodynamic resistance
Streamlined and flush surface carbody contributes to reduce running resistance and energy consumption.
Reliability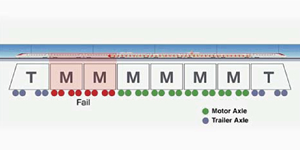 1.High reliability of propulsion system
efSET employs equipment and components which have been proven in terms of performance, reliability and maintainability through the operation of Shinkansen.
2.High redundancy
The standard configuration of efSET is 8-cars which consists of 3 traction units. Each 2-cars unit has identical electric system, and the train can continue running by 2 units without significant degradation of train performance in case of 1 unit failure.
Environmental Performance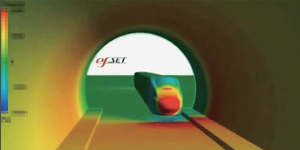 1.Exterior noise decreasing
Nose shapes and exterior fittings of efSET are well examined by Kawasaki's outstanding Computational Fluid Dynamics technology so as to minimize the wayside noise and micro pressure wave at a tunnel.
2.Lightweight carbody
efSET succeeds light weight carbody technology proven in Shinkansen.
Comfort
1.Quiet passenger room
High level of quietness is secured by the precise noise prediction technology, application of noise resistant structure, and sound insulation.
2.Comfortable pressure conditioning
Continuous ventilation system, which lowers the air pressure variations, is employed to efSET so as to keep passenger comfort especially running in a tunnel.
3.Excellent riding quality
(1)Active suspension system:
Lateral vibration of carbody, which deteriorates passenger comfort, is suppressed by actuator installed between carbody and bogie. (2)Carbody tilting system using air spring:
The tilting system which tilts carbody by inflating outer air spring, reduces the centrifugal force when the train passes a curve at high speed. Since the system utilizes conventional air spring and does not require complicated mechanism, this system is simple and reliable.