Kawasaki Builds Waste Treatment Facility for a Public Entity in Miyagi Prefecture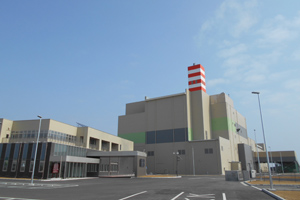 Tokyo, April 14, 2016 - Kawasaki Heavy Industries, Ltd. announced today that it has completed its construction of a waste treatment facility for the Watari-Natori Waste Treatment Association in Miyagi Prefecture.
The new facility serves as a waste treatment and power generation facility capable of treating 157 tons of waste per day (two incinerators, each with a 78.5-ton capacity), and its recycling center can handle 22.9 tons of waste every five hours. The waste treatment facility employs a completely closed system to prevent any wastewater from being released outside the premises, which contributes to reduced environmental impact. Kawasaki handled everything from design to manufacturing, procurement and installation of equipment for the facility.
The waste treatment facility features proprietary Kawasaki parallel flow stoker incinerators capable of high-performance combustion using minimal air volumes, and flue gas exiting the incinerators is treated with bag filters and other systems to minimize environmental pollution. The facility also combines a waste-heat recovery boiler and steam turbine with the incinerators to generate sufficient electricity to power the facility, helping reduce greenhouse gas (CO2) emissions. The recycling center crushes bulky objects and sorts waste into various categories, including steel, aluminum and combustibles, after which combustible waste is processed using incinerators.
Kawasaki offers a wide range of waste-product incineration technologies in addition to its stoker-type incinerators, and the company will continue to develop new waste treatment technologies and deliver products in order to address the diversifying environmental challenges of today's world.

Overview of the Watari-Natori Waste Treatment Association Waste Treatment Facility Construction Project
Client
Watari-Natori Waste Treatment Association
Contractor
Joint venture by Kawasaki Heavy Industries, Kumagai Gumi and Sato Corporation
Project name
New Waste Treatment Facility Construction Project
Site
Shinfujisone, Shimonogo, Iwanuma City, Miyagi Prefecture
Facility overview

Parallel flow stoker incinerators with combined 157 ton/day capacity (78.5-ton capacity × 2 incinerators)

Bag filters, toxic gas removal equipment, etc. (flue gas treatment equipment)

Processing to prevent heavy metal elution (fly ash treatment facilities)

Power generation, road heating, facility hot water supply (equipment utilizing waste heat)

Recycling center processing 22.9 tons of waste every 5 hours

Contract amount
11,024,850,000 yen (including consumption tax)
Contact