EarthTechnica Launches New Shredder Suitable for Processing a Wide Range of Materials
Tokyo, March 26, 2014 — EarthTechnica Co., Ltd., a Kawasaki group company, announced today that in April it will launch the VS Shredder, a new vertical type shredder suitable for processing a wide range of materials.
Designed for recycling plants that process steel, nonferrous metal, plastics and other valuables, the VS Shredder is capable of crushing materials ranging from bulky wastes to home electric appliances and metal scraps.
The VS Shredder features a rotor that revolves in both directions. This significantly improves maintainability by enabling more efficient use of the rotor, which needs to be replaced periodically. In addition, the wide opening allows bulky and long materials to be fed with greater ease, increasing productivity. The crushed product is of high quality with high bulk specific gravity*. The VS Shredder also provides a mechanism for adjusting the particle size of crushed product, streamlining post-processes such as sorting and transportation.
While the offering will initially consist of two models — the EVS-200 and EVS-300 — there are plans to add more models to enhance the lineup in accordance with market needs.
In Japan, demand for recycling of small home electric appliances is expected to increase, with the enforcement of the Small Household Appliance Recycling Act in April 2013. EarthTechnica is working to help realize a recycling society as it moves forward to develop recycling technologies and deliver superior environmental solutions.
*Bulk specific gravity: Mass of an object per unit of volume
Main Features of the VS Shredder
Greater Maintainability
The bidirectional rotor allows the spinning direction to be changed with the flick of a switch, using both sides of the hammer for less maintenance work.
Increased Productivity
The wide opening allows bulky and long materials to be fed with greater ease, making pre-processing and feeding equipment unnecessary.
High-quality Products
Compared to horizontal shredders, a vertical shredder holds materials inside the crusher longer, providing superior crushing capability with the combined effects of impact and compression. This results in crushed product with higher bulk specific gravity, helping achieve reduced volume and improved transportation efficiency.
A special mechanism allows the particle size of crushed product to be freely adjusted
Cross-section of the VS Shredder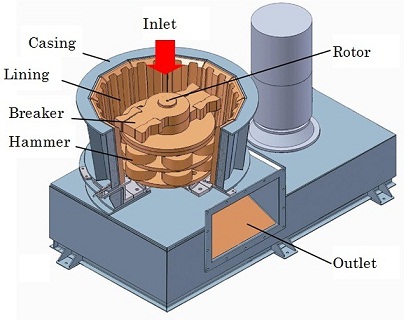 Specifications
| | Motor Output | Capacity |
| --- | --- | --- |
| EVS-200 | 75–150 kW | 3-6 t/h |
| EVS-300 | 132-220 kW | 4-10 t/h |
*Processing capability varies considerably depending on the characteristics of the materials.
Contact