efWING
Weaving a New Future

Developed as a New-Generation Truck, "efWING" uses CFRP (Carbon Fiber Reinforced Plastic) leaf springs to bring new innovation to rolling stock technology. The weight saving properties of CFRP offer numerous performance advantages, including increased safety and ride comfort. Additional benefits from the resultant low energy requirements include environmental friendliness and reduced running costs. The innovative "efWING" will accelerate the evolution of rolling stock truck design.
1. CFRP Leaf Spring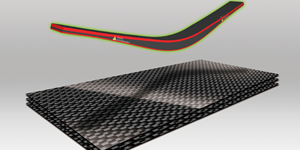 While CFRP is used regularly in the aerospace industry, this is its first use in a rolling stock truck application. efWING's innovation will lead the way to the future.
2. Function Integration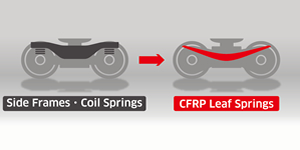 Conventional rolling stock trucks use steel side frames and independent coil springs. Using CFRP leaf springs, efWING combines the functions of these individual components for a simplified design.
3. Weight Savings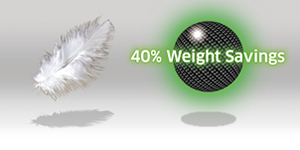 Taking full advantage of CFRP's characteristic light weight, significant weight savings could be achieved. (40% savings vs. conventional truck frames) The lower weight of efWING enables many performance improvements.
4. Environmentally Friendly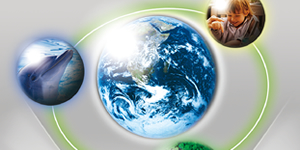 Lighter weight allows energy consumption to be reduced. Environmentally friendly, reduced running costs, lower CO2 emissions – all characteristics needed for next-generation technology. efWING pursues an Earth-friendly design.
5. Maintenance
CFRP is a new material in this industry. Results of various R&D tests show efWING to have a planned lifespan of 40 years. Accounting for regular wear and tear, determined service intervals and inspection methods will ensure that quality standards are met.
6. Design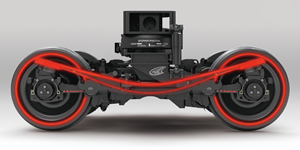 Based on kansei (sense-based) engineering, a design that balances performance, appearance and cost was achieved. efWING's refined functional beauty captures the essence of the New-Generation Truck.
TTCI Running Test Results
(Transportation Technology Center, Inc.)
Equalization Characteristics
efWING clears the American Public Transport Association's static equalization tests (APTA SS-M-014-06 Class G) with a 200% safety margin. This shows that the risk of derailment in curves or track forks is small.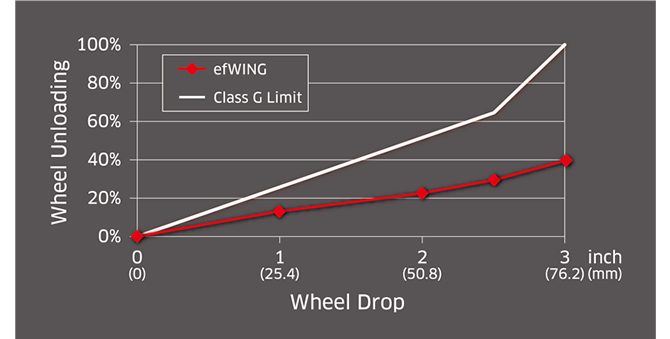 Safety
TTCI carries out tests to evaluate safety when running on various curves, forks and track irregularities. efWING clears the strict 49CFR213.333 federal regulation.