Stakeholder Communication
Kawasaki group actively recognizes stakeholder expectations, creates social value by contributing to solutions that address concerns and satisfy anticipated responses through business activities, and strives to raise enterprise value through these efforts. In addtion, we communicate with each of our stakeholders, conveying our "Action goals" to them, formulate action plans, and implement the plan-do-check-act (PDCA) cycle.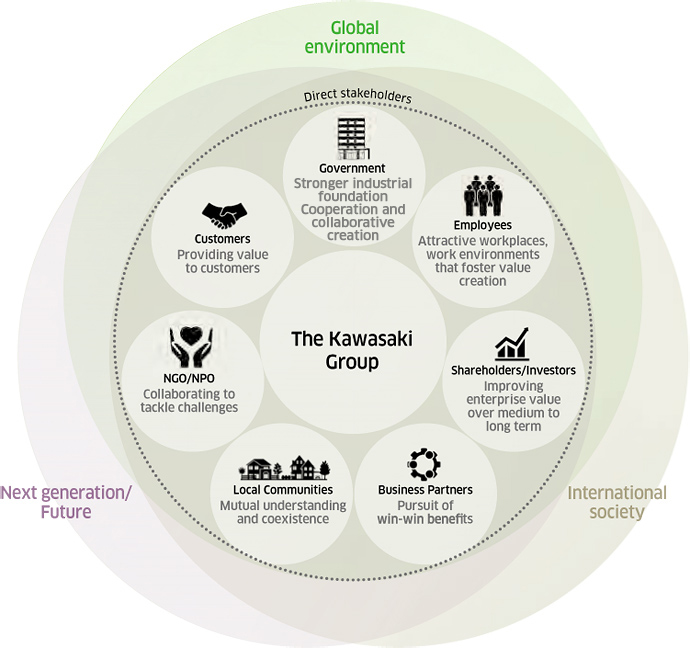 ---
We encourage communication with experts and international organizations
—the voices of society— and apply the insights gained to future activities.
In line with international codes of conduct (including ISO 26000)

Meet demands of society through initiatives targeting higher SRI (socially responsible investment) ratings by institutions worldwide

Dialogue with experts who represent the demands of society as a whole

→

Dialogue with Experts

Awareness of social issues and risks, and solutions derived through business

→

Communication with ESG Investment/ SRI Rating Agencies and International NGOs

Kawasaki keeps lines of communication open to global ESG investment/ SRI rating agencies,* such as the Dow Jones Sustainability Indices, and international NGOs, including Transparency International. We complement the examination and assessment of disclosed information through dialogue, and if we are told that the information is still insufficient, we revise our approach to disclosure or our activities.
---
Contact