Business and Human Rights
Respect for Human Rights and Policy on Discrimination
The philosophy underlying the Kawasaki Heavy Industries Code of Corporate Ethics is "respect for individuality and human rights / prohibition of discrimination."
As part of our commitment to this philosophy, we have affirmed that "To create and maintain a comfortable workplace, we respect the individuality and human rights of all people. We do not engage in discrimination, sexual harassment or bullying." In September 2011, we formulated the Kawasaki Global Business Ethics Guidelines(PDF:60KB)
, which established a policy on corporate ethics and compliance that applies globally to all Group companies. The guidelines call for respect for human rights and commit us to opposing discrimination and intimidation in the workplace as well as labor involving young people below the local legal working age as well as any form of forced labor.
---
Addressing Human Rights and Labor Issues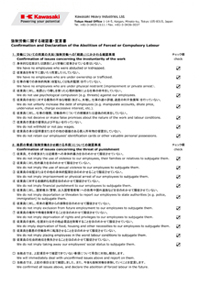 With respect to the global human rights and labor issues of child labor and forced labor, we have confirmed that no company under the Group umbrella is involved in such practices and declared that none will ever employ such practices. This style of confirmation and declaration, acknowledged and supported by the Global Compact Network Japan (GCNJ)* secretariat, was prepared in line with the"Global Compact Labor Principles and Business Guidelines" and was signed by the presidents of all Group companies, including those overseas. All Group companies, including those overseas, also prepared CSR Procurement Guidelines, which cover respect for human rights, and call on business partners to work as a team to uphold these guidelines.
* GCNJ: A network in Japan that aims for sustainable development as part of the United Nations
---
Grievance Committee
Under its labor agreement, if a problem arises that cannot be resolved within the workplace, Kawasaki will set up a grievance committee, with participation from the director responsible for personnel and the president of the labor union, to quickly, fairly, and peacefully resolve the problem. The grievance committee handles a wide variety of issues, including health management and safety of union members, incidents of power harassment or sexual harassment, and matters related to personnel transfers. In addition, the Company promises that no employee voicing a grievance will be put at a disadvantage.
---
Prohibiting Sexual Harassment and Power Harassment
To create a comfortable working environment where employees can perform their jobs free from harassment, Kawasaki offers a grade-specific training to guide everyone onto the path of appropriate behavior and to enlighten everyone about the morale-crushing consequences of harassment. We have implemented harassment awareness training designed to cover all employees. In addition, in fiscal 2016, we established counseling offices throughout the Company where we accept counseling requests on harassment from employees and temporary staff. We also hold meetings with employees seeking advice, as necessary, and respond fairly to incidents, while also remaining committed to respecting their privacy.
Consideration Given to Employees at KMI (Indonesia)
PT. Kawasaki Motor Indonesia (KMI) is a local manufacturing and marketing base for Kawasaki-brand motorcycles in Indonesia.
About 90% of the population of Indonesia is Muslim, and many of KMI's employees are followers of Islam. Therefore, various considerations are extended to these employees. The company has set aside an area on site for a mushola (prayer room). Female employees are allowed to wear a headscarf during working hours and, in the cafeteria, no dishes made with pork are served since dietary laws prohibit consumption of pork.
During the holy month of Ramadan, Muslims fast between sunrise and sunset, and through this month office hours for employees in administrative and marketing divisions start 30 minutes earlier than usual. This change reflects the desire of many Muslims to have their evening meal with family at home during Ramadan. Also, after Lebaran (a celebration to mark the end of fasting), which follows Ramadan, KMI holds a halal bi halal event for Muslims.
But Islam is not the state religion of Indonesia. In fact, there are Christian and Hindu minorities, and since the constitution guarantees religious freedom, Christmas and Hindu celebrations are also observed as national holidays. KMI therefore extends considerations to employees of Christian and other faiths and holds events, such as Christmas celebrations.
This demonstrates KMI efforts to accommodate the local religions, culture and customs of the land and execute business activities that respect human rights.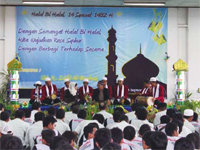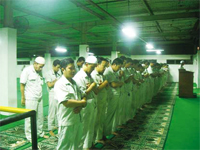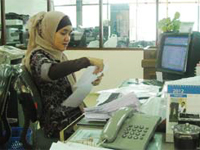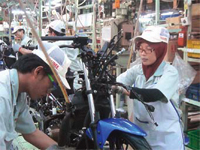 ---
Contact