Kawasaki Completes Waste Treatment and Power Generation Facility for Sukagawa Region Health and Environment Association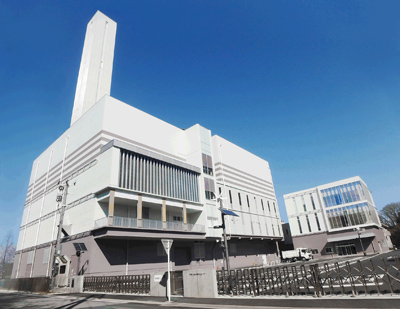 Tokyo, April 1, 2019 — Kawasaki Heavy Industries, Ltd. announced today its completion of a new waste treatment center for the Sukagawa Region Health and Environment Association. The new facility was built inside an existing complex on the bank of the Namegawa River, an Abukuma River tributary, and was planned and built based on the Association's goals of creating a facility that has minimal impact on the surrounding environment, achieves excellent economic performance and outstanding safety and reliability, realizes effective resource recirculation (recycling), and earns the trust of local citizens. The new facility is designed with consideration given to its overall appearance and incorporates a range of different technologies to prevent environmental pollution, thus ensuring safety and peace of mind for everyone in the surrounding area.
This center is capable of treating 95 tons of waste per day using two incinerators, each with a capacity of 47.5 tons every 24 hours. It employs the Kawasaki Advanced Stoker System, which comprises stoker incinerators utilizing the company's proprietary parallel flow incinerators to burn waste completely with small amounts of air. Furthermore, this environmentally friendly facility is equipped with two-stage bag filters, a flue gas recirculation system and other advanced flue gas processing systems designed to reduce emissions of substances designated as hazardous under national regulations, such as dioxins and nitrogen oxides (NOx), to levels far below specified standard values. On top of that, each of the incinerators combines high-temperature, high-pressure boilers and extraction condensing steam turbines for high-efficiency electric power generation (maximum output: 1,990 kW), intended to meet the maximum generation efficiency of 19% specified in design plans. This power generation equipment can supply all the electricity the facility needs with surplus power left over to sell.
A joint venture comprising Kawasaki and Asunaro Aoki Construction Co., Ltd. handled design and construction for the waste treatment center, and operations will be carried out for 20 years by the special-purpose corporation Green Park Sukagawa Co., Ltd., which is funded by Kawasaki and Shinki Corporation. Incineration facilities come equipped with leading-edge Smart-ACC®*1 technology as well as the KEEPER remote monitoring system*2 for operational support, WtE SAURS operation planning software*3 which provides year-round operation planning optimization support, and other innovations in pursuit of stable and reliable facility operations.
Kawasaki boasts a wide range of waste treatment technologies in addition to its stoker incinerators. Including this facility, it has been involved in the construction and operation of about 350 municipal solid waste treatment facilities to date. The company will continue to develop innovations and deliver products in response to increasingly diverse environmental problems and societal needs.
| | |
| --- | --- |
| *1 | Smart Automatic Combustion Control: Proprietary, sophisticated combustion control technology by Kawasaki, designed to achieve more efficient and reliable power generation than conventional waste treatment facilities. Enables adjustment of generation output at a scale roughly double that of conventional systems (over the same time period), facilitating response more closely tailored to power supply demand. |
| *2 | System in which staff at a remote support center employing highly experienced engineers monitor operating conditions and provide operational support. |
| *3 | Software that automatically creates operation plans to maximize revenue from selling electricity and help boost the facility's value as a regional energy center. |
Sukagawa New Regional Waste Treatment Facility Construction and Operation Project
Construction Project
Client
Sukagawa Region Health and Environment Association
Contractors
Joint venture between Kawasaki Heavy Industries, Ltd. and Asunaro Aoki Construction Co., Ltd
Construction site
Biwanokubi, Morijuku, Sukagawa City, Fukushima Prefecture
Facilities

(1) Waste incineration: stoker incinerators, 95 tons/day (47.5 t / 24 hours × 2 incinerators)

(2) Waste-heat utilization: steam turbine generator, 1,990 kW × 1 unit

Contract sum
9,774,000,000 yen (including consumption tax)
Facility Operation
| | |
| --- | --- |
| Client | Sukagawa Region Health and Environment Association |
| Contractor | Green Park Sukagawa Co., Ltd. (investors: Kawasaki Heavy Industries, Ltd. and Shinki Corporation) |
| Contract period | April 1, 2019 to March 31, 2039 (20 years) |
| Contract sum | 9,180,000,000 yen (including consumption tax) |
Contact