Kawasaki establishes new robot engineering facility in Singapore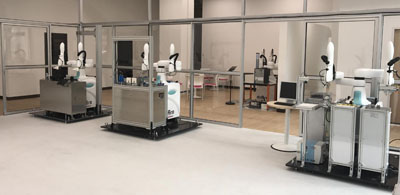 SKRE's Training Room
Kawasaki Heavy Industries, Ltd. announced today the opening of its new Singapore Kawasaki Robot Engineering Center (SKRE) in Pasir Panjang, Singapore. This facility, which is a first-of-its-kind for Kawasaki, will focus on driving the applications development and training for its latest technology, the dual arm collaborative robot, "duAro".
"duAro" which is capable to act like human's motion with its two independent arms, has wide-ranging applications across areas such as plastic molding, food manufacturing, metal fabrication and electronics assembly. In addition to its practical applications, the modular nature, ease of deployment and usage of the duAro makes it an ideal solution for small and medium enterprises (SMEs).
SKRE will provide end users with an alternative robotics solution from what is available in the market today. The use of dual arm robots reduces the need for jigs and fixtures compared to single arm robot systems and there are few collaborative dual arm robots available commercially today.
A key activity of the new Kawasaki robot facility is to provide training on duAro applications to support and scale up the capabilities of Singapore's system integrators and end users.
Mr Yasuhiko Hashimoto, Managing Executive Officer of Kawasaki says, "Many of the SMEs in Singapore face cost and space constraints for which Kawasaki's new robot engineering center which focuses on our duAro technology will help SMEs implement robotics applications to enhance their operations in spite of these constraints." Kawasaki will also consider robot renting business scheme to Singapore with potential financing company in order to enhance the opportunity and flexibility of easy introduction of robotics application for SMEs. Kawasaki has been contributing to Singapore's semiconductor industry, supplying more than 13,000 robots focused on wafer handling and has established "Singapore Kawasaki Robot Center" in 2014 for after sales services.

Mr Lim Kok Kiang, Assistant Managing Director of EDB says, "For Singapore, robotics and automation is a key focus, both as an area with immense growth potential and enabler for our national push towards advanced manufacturing. This latest investment by Kawasaki will help to drive the adoption of robotics applications, particularly among SMEs, and also contribute towards the training of skilled talent for the sector. EDB is pleased to support this new investment and look forward to collaborating with Kawasaki to drive innovation and capture new growth opportunities."

Contact